A* Flies to the Sky, Making your Future Bright. When the A Level results were released, I got an A* for my EPQ project.
You need to have great time-management, project planning, research, academic writing, and presentation skills to make a great EPQ project.
Do you know my secrets about getting an A* in my EPQ project? Follow me!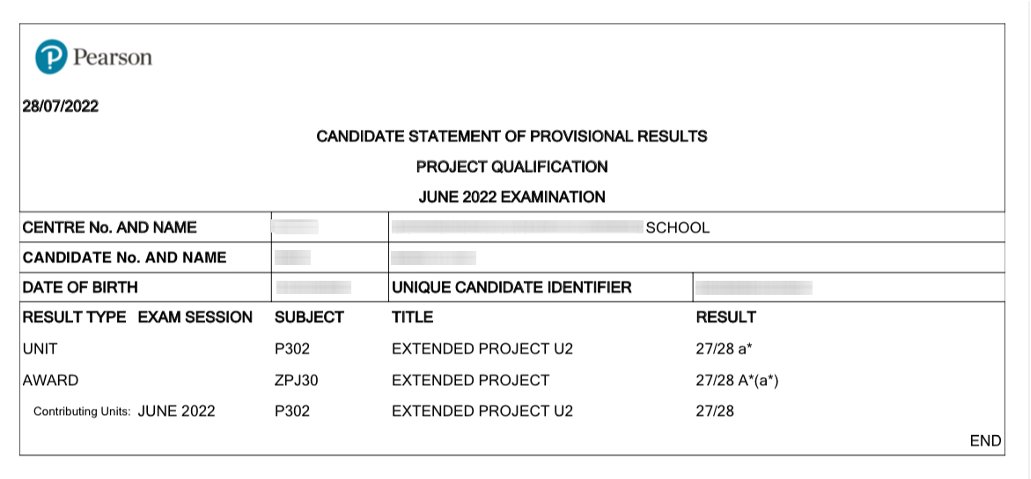 What is EPQ?
Before talking about my useful tips, let's talk about some basics about the EPQ project.
EPQ stands for Extended Project Qualification, which is a research project for students to make about their interesting topics.
The project is worthwhile because it not only develops your necessary skills to study in the university but also worths up to 28 UCAS tariff points which is equivalent to half of an A Level subject (A*).
Materials Needed
Students need to make and submit some documents during the project, including:
Project Proposal Form
Activity Log
Dissertation / Report
Final Presentation PPT
Find a Starting Point
The first thing you need to do is to find a starting point for your project.
Find your Interests
The project can be any topic you want and it can be any subject like Computer Science, Mathematics and Chemistry.
In order to make a good EPQ project and intuitively make your research, you need to find and pinpoint the topics you are interested in.
For example, I am a Computer Science student and I am interested in computer networking and web programming, so I will choose some relevant topics.
Choose your Topic
Then you need to choose one topic for your project.
You can list all topics you would like to do first so that you will have sufficient ideas. This can be a mindmap or a list.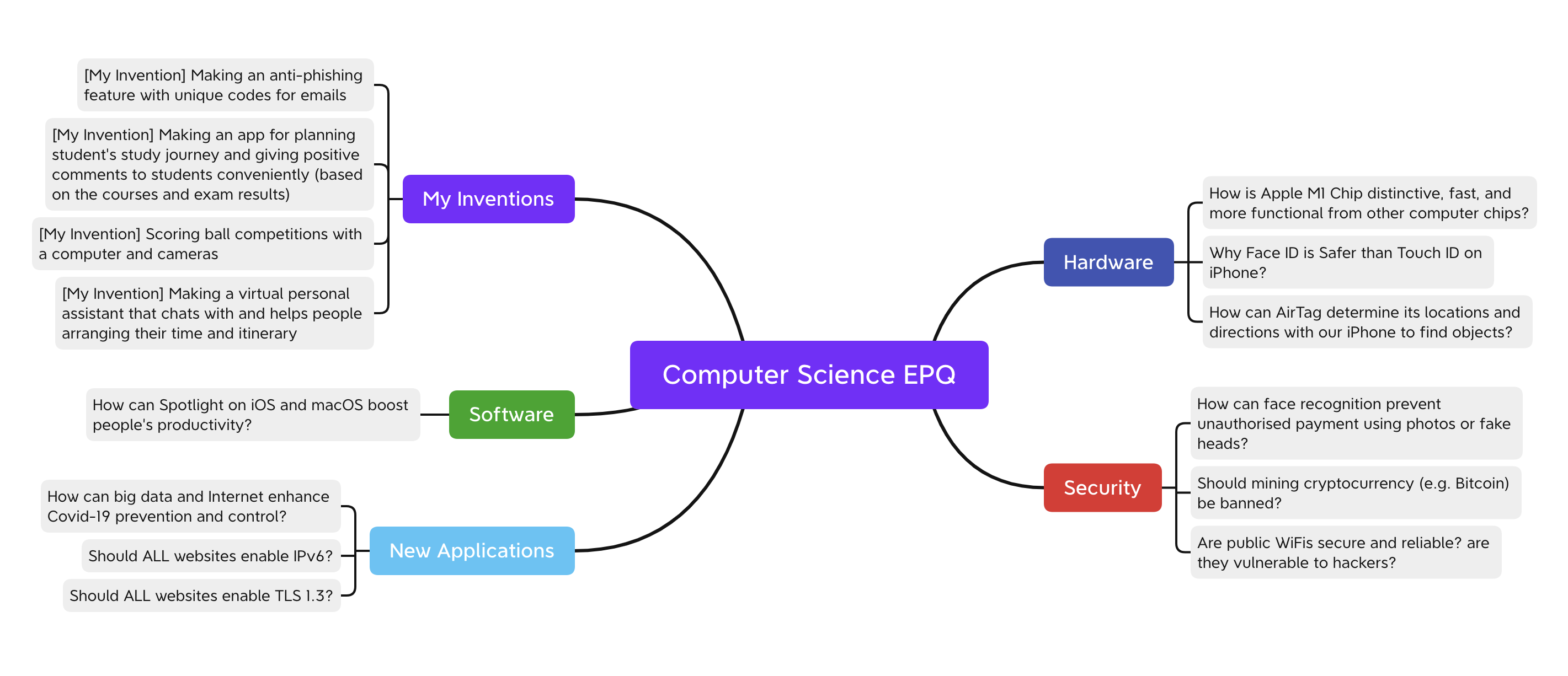 Based on my interests in computer networking and web programming, I chose a topic to make a fast, secure and liable educational website (this website).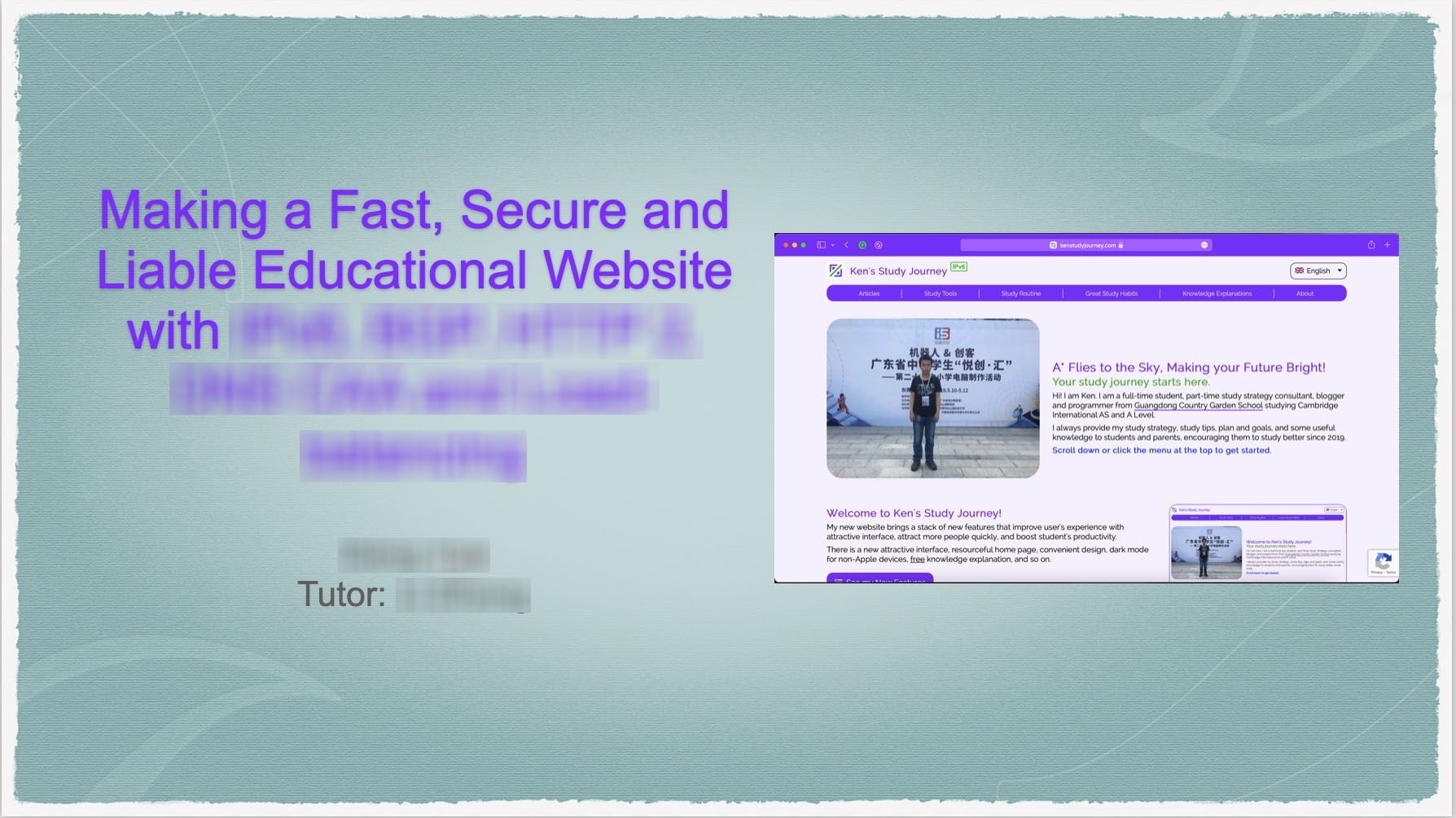 Complete Proposal Form
After choosing your topic, you will need to fill in your Proposal Form.
This includes the title of your topic, questions you want to find out, reasons for choosing the topic, activities to carry out, resources to get, and so on.
You also need to write down some skills you need to practise in this project in the Proposal Form.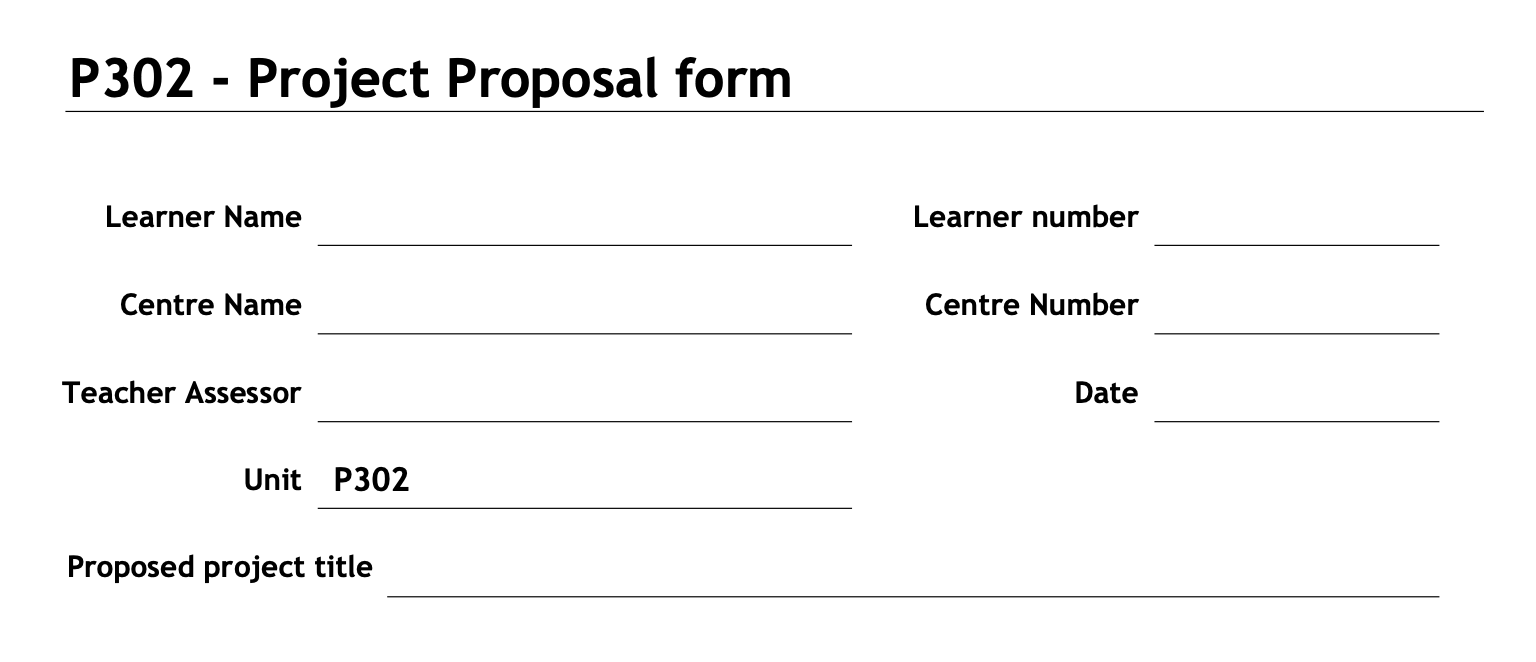 Start Making Activity Logs
Once you have started doing your project, you can immediately start making your activity logs.
The Activity Logs will cover all stages of your project, including when you are choosing a topic, writing your dissertation, and correcting your errors.
You need to record your process in your Activity Log as soon as you finish every step. If you leave this until the deadline, you will find it difficult to expand the details.
You can also add some images in your Activity Log to provide more evidences, including screenshots, diagrams and data.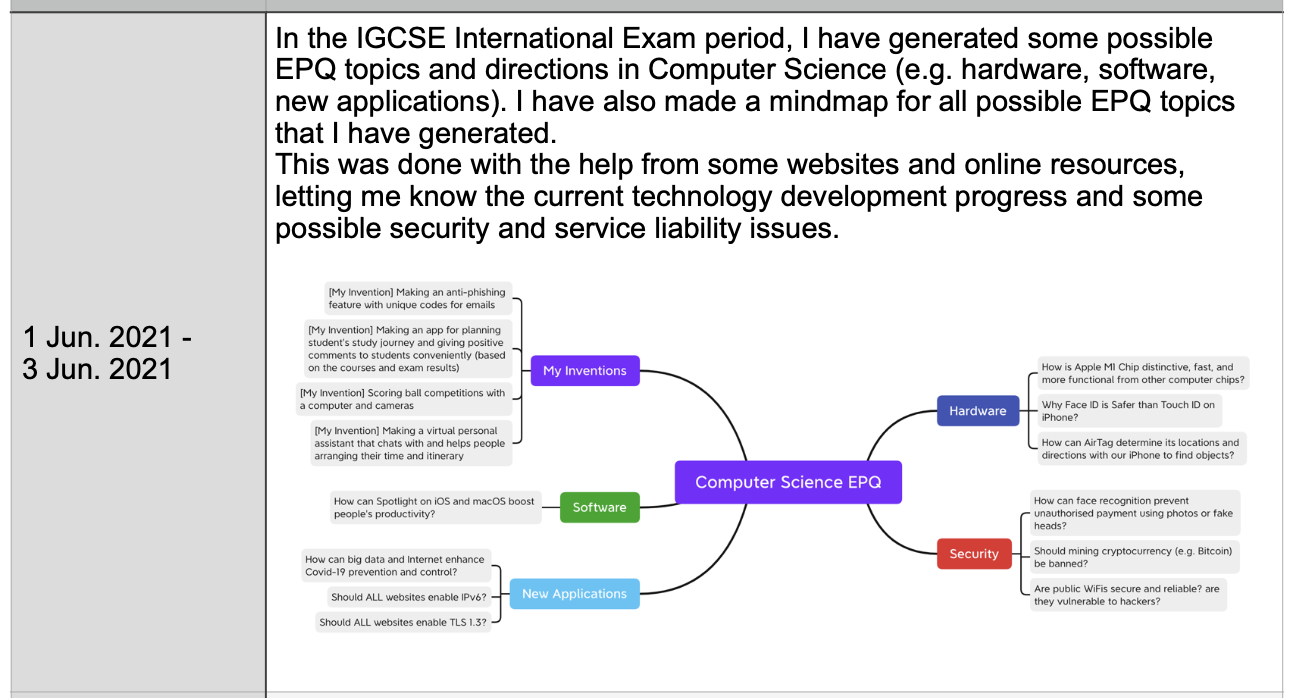 Make Explicit Plans
After determining your topic, you will need to make plans for your project.
Some of the skills that the EPQ is testing are project planning and execution skills. So you need to make and execute your project plans.
You can use a Gantt Chart to plan your EPQ project, including each step and its deadline. You can also add an 'Actual' section to record your status in reality.

Keep Consistency among Documents
More importantly, you need to maintain consistency among your documents, including your Gantt Chart, Proposal Form and Activity Log.
For example, you need to have the same original plan in all of these documents.
Make your Research
Then you can make research for your interesting project. I will give you some tips during the research and investigation process.
Find and Read Dissertations
The first step is to find and read some relevant dissertations/reports.
The main goal of a research project is to make some improvements to technology or create a new item based on the existing research by citing some previous dissertations.
For example, based on IPv6, BGP and Content Security Policy technologies, I can make a fast, secure and liable website.
You can use some websites, such as Google Scholar, to find dissertations you need.
Then you can add them to the References section in your essay and then add your summary to the Literature Review section.
For example, in the Literature Review section of my essay, I have added the definitions and descriptions of some technologies used, such as IPv6 and BGP.
Learn Academic Writing Formats
The second step is to learn the formats of an academic dissertation.
You need to follow the formats to formally express your experimental results. You can also learn this format from some existing dissertations you have downloaded from the Internet.
An academic writing usually involves:
Table of Contents
Abstract and Keywords
Introduction
Literature Review
Methodology
Experiment
Results
Conclusions
Evaluation and Review
References
Appendix
For example, the abstract contains the main idea of the essay, and the introduction involves some real-life problems and the purpose of this research, and so on.
Keep Evidence and Screenshots
During the experiments, you need to keep evidence and screenshots to expand the details in your dissertation.
For example, while installing my web server and making my website, I have screenshotted my server configurations, codes, and firewall rules.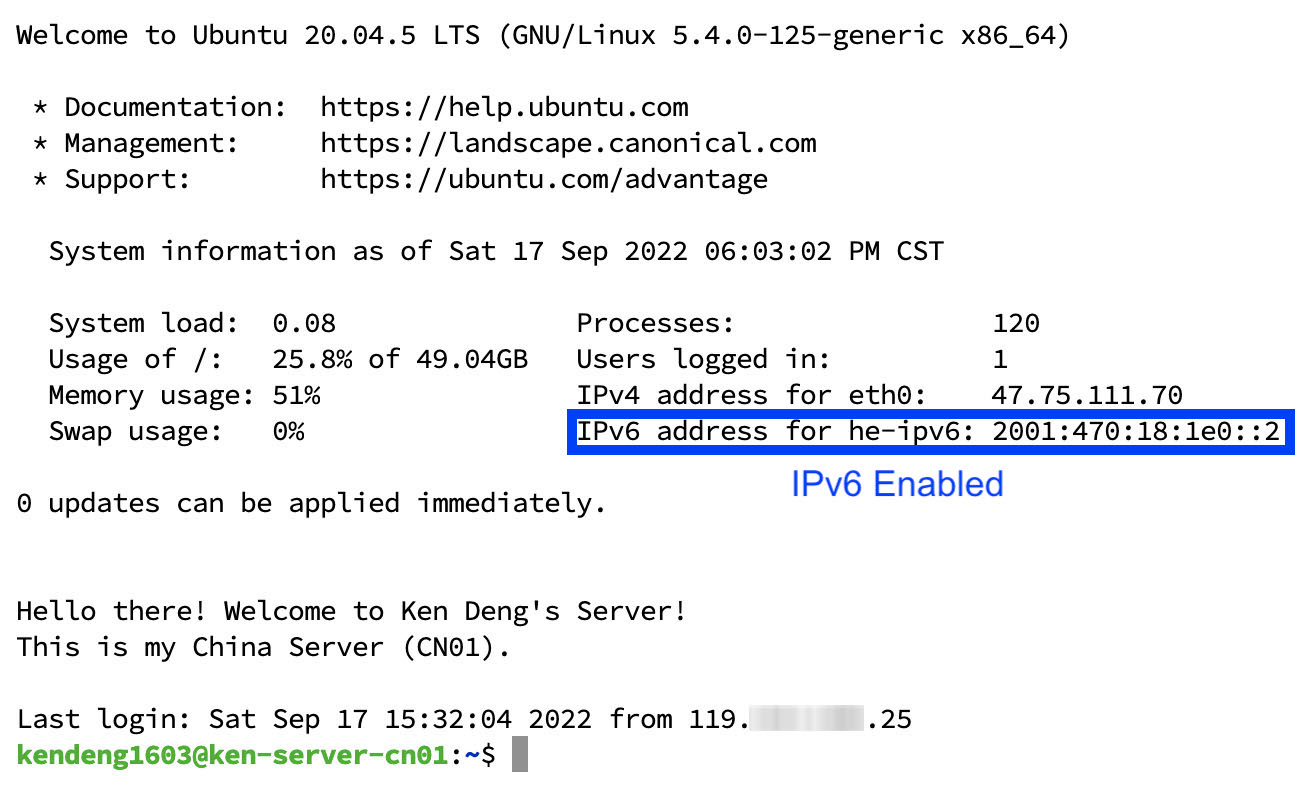 You also need to screenshot some errors in your project, so you will show your persistence in your dissertation.

Don't be Stopped by Errors
You may be experiencing errors and failures in your experiments, but don't be stopped by these errors.
The EPQ project also tests your trial-and-error skills. Only with hundreds and thousands of trials can you become successful in a big project.
So, you always need to find out some solutions and improvements if you are experiencing hurdles while making your project.
For example, I had failed to enable IPv6 on my web servers first. However, after hundreds of trials and adjustments, I have successfully enabled it on the website.
You also need to write down your full solutions to each error in your Activity Log. For instance, I have written down my steps to address the IPv6 failure problem.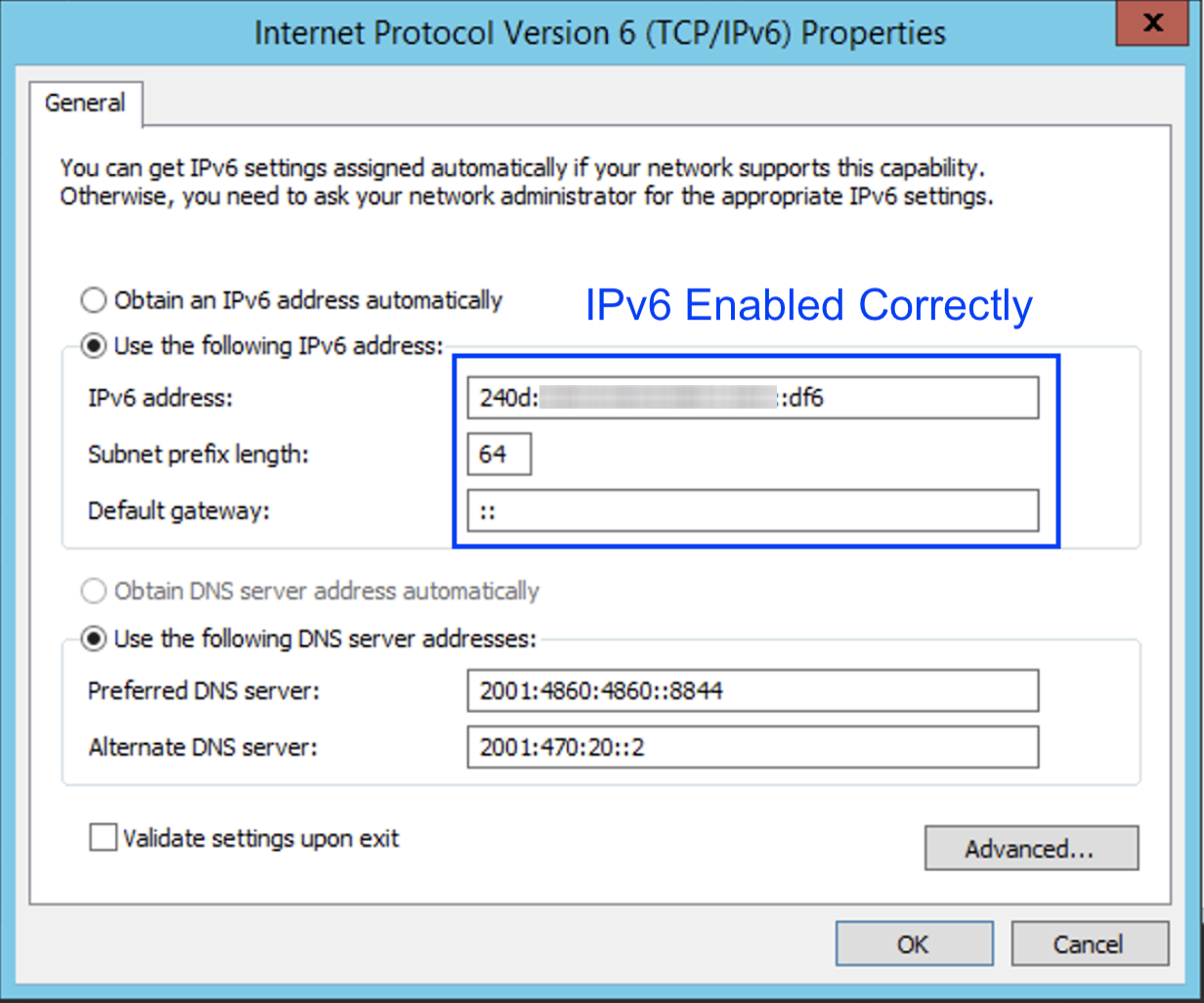 Review your Weaknesses
After the project, you also need to review your weaknesses and make reflections. This includes some improvements you can make if you do this project again.
You can write this down in your dissertation and Final PPT.
For example, although I have asked my classmates to test my website speed at different places including their homes and some public WiFi, I should have used some online testing tools to test it in different countries and regions.
Make your Presentation
In the last stage, you need to make a PowerPoint presentation to show your project with teachers and other audiences.
This will test your public speaking skills, which may also be essential for your future study.
Engage with Audiences
In the presentation, you need to engage with audiences and catch their attention.
You can add some questions about some real-life problems. This will demystify the knowledge points in your project.
For example, at the beginning of my presentation, I have asked the audiences a question: "Do you notice that the Internet has become slower during the COVID-19 Pandemic?"
I have also invited most classmates to participate in my EPQ presentation to let them learn more about the Internet and web.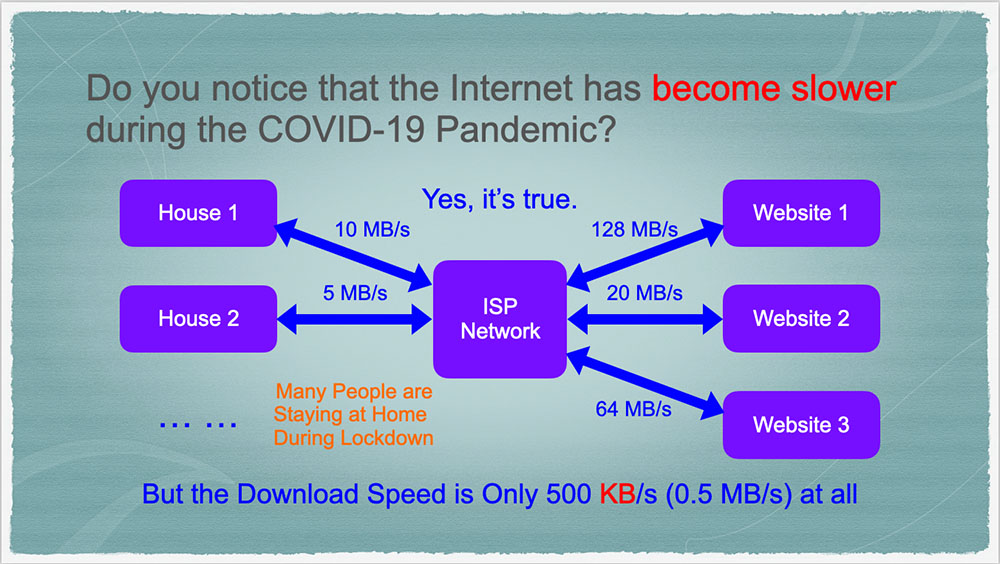 My Time-management Tips
Last but not least, I will give you some tips to boost your time-management skills.
I will mainly introduce two tips mainly for this project. My other time-management tips will be introduced in my future articles.
Reduce Procrastination
You need to reduce procrastination while doing your project.
Procrastination is to delay the tasks you need to do today to a future date (e.g. tomorrow).
So, you need to strictly follow your plans at the start of your project. In other words, you need to finish every step before its deadline.
Use Projects Tracker on Ken's Study Planner
Recently, in order to reduce procrastination, I have made a new feature on my Study Planner online tool which is called Projects and Reading Tracker.
Since I am a Computer Science student, I made my study planner online tool as part of my website with programming skills.
It can store the projects I need to do and their deadlines and progresses. For example, I can record each stage of a project, its deadline and the percentage finished.
If you are interested in, you can learn more and sign up for free.
Learn More
Sign Up (Free)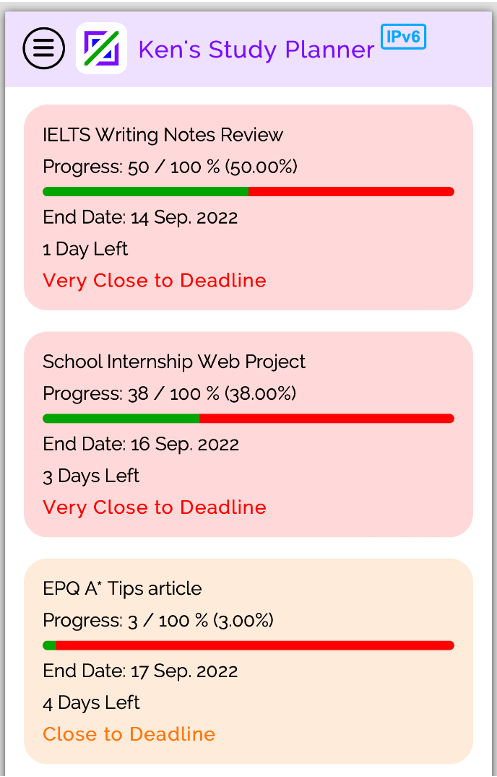 Explore More Study Tips
These are my tips for making a high-quality EPQ project. I hope you can study hard, improve your time-management and project planning skills and get an A* in your project.
More useful study techniques and habits are available on my website. You can Explore More Study Tips if you want.
If you like this article, please drop a 'like' thumb up below.
You can share and recommend this article to your friends and classmates if you wish, and write comments below about your feelings, questions and your school life.
Follow my social media to learn more about my latest information.
Instagram/Pinterest: @kenstudyjourney
Subscribe to my email newsletter if you need to receive my latest articles and news.