Ken's Study Journey Strives to Maintain Internet Security
Say "No" to Massive Website Scanning
Ken's Study Journey rigorously (strictly) checks massive website scanning attempts, maintaining a safe environment for the Ken's Study Journey website/platform and user study plans.
My server's Web-Application Firewall (WAF) and Automated Reminder System will automatically remind scanners.
Any continuous scans after reminders/warnings may be shown publicly on this reminder board. The display time of each scan is 7 days.
Any sensitive information (e.g. IP addresses) will be masked to enhance its security.
New:
Any stopped scanning attempts several seconds after automated reminders may not be displayed.
All records will be displayed together due to multiple violation types of a scanner.
Scan Types include:
Open-source Website Framework Modules
(including but not limited to, WordPress modules)
Website Backend Modules
(including but not limited to, "php", "jsp", "asp", "aspx" and "sql")
Website Admin Entrance
Non-existent APIs and APP Ports
Website Code Backup Zip Files
Website Login Pages (User Names and Passwords)
SQL injection
XSS attack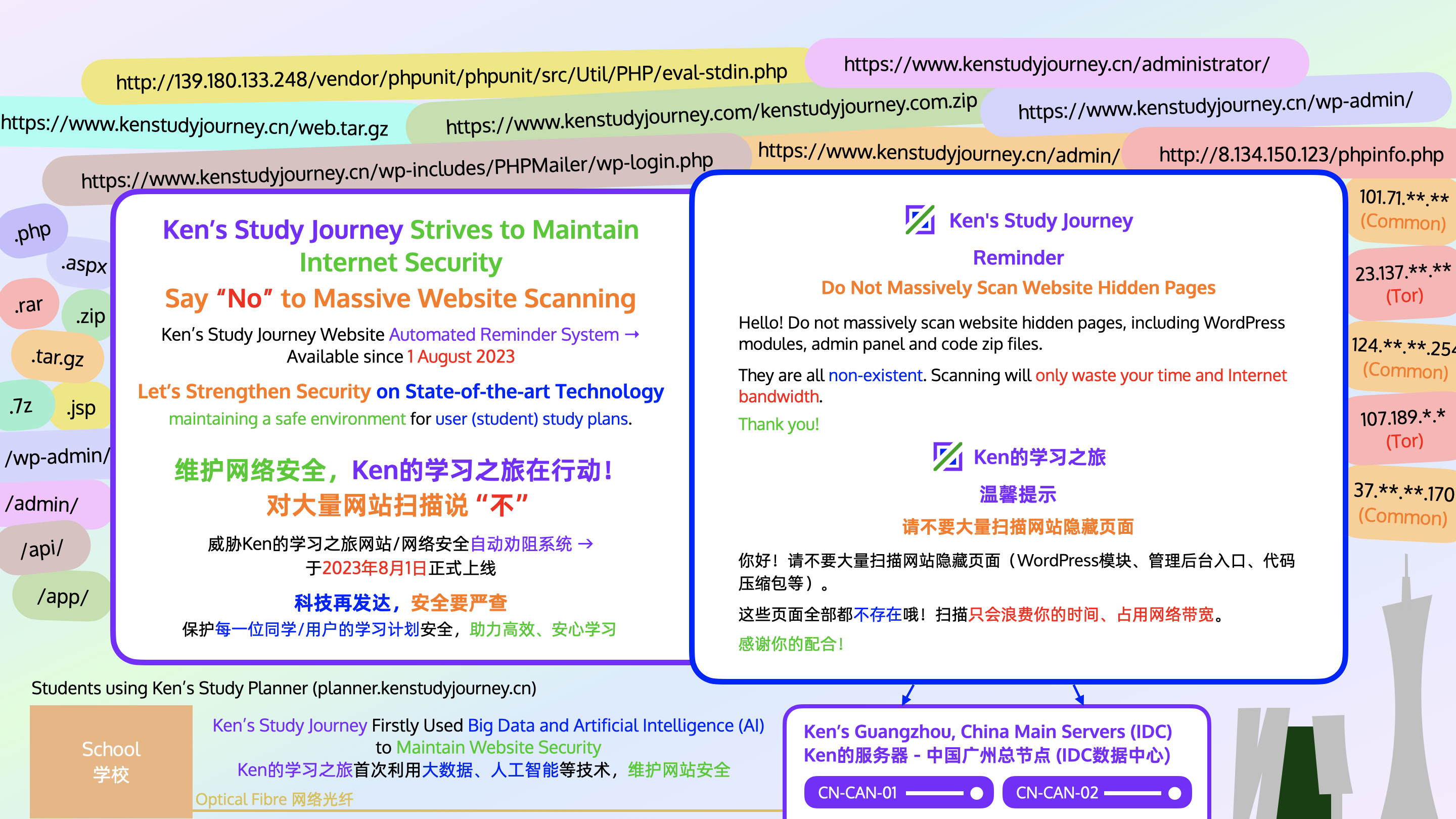 Updated: 4 Oct. 2023 08:50 (GMT+8, CST)
Total: 55 Records in this table
Swipe/Scroll left and right to view the entire table.
Date/Time (GMT+8)
IP Address
Scans
Device Type
Sample URLs
2023-10-03
01:01, 13:13,
19:33, 20:45,
22:46
38.**.**.118
64.**.**.230
47.**.**.12
5 times
Python Requests, Unknown OS
https://www.kenstudyjourney.cn

/admin.php

2023-10-03
18:33, 20:11,
20:36, 21:44
103.**.**.226
5 times
Firefox, Windows
https://www.kenstudyjourney.cn

/wp-login.php

2023-10-03
18:26, 19:33,
20:32, 22:01,
22:50, 23:55
103.**.**.146
6 times
https://www.kenstudyjourney.cn/china

.php

2023-10-03
12:34-12:35,
20:25-20:26
167.**.**.53
217.**.**.90
230 times
Chrome, Windows
http://47.242.43.5

/sql/sql

/index

.php

?lang=en
http://47.242.43.5

/admin/phpmyadmin

/index

.php

?lang=en
http://47.242.43.5

/phppma

/index

.php

?lang=en
2023-10-03
06:08-07:33
45.**.**.112
36 times
Chrome, Android
https://www.kenstudyjourney.cn

/wp-content

/shell20211028

.php


https://www.kenstudyjourney.cn

/wp-admin

/shell20211028

.php


https://www.kenstudyjourney.cn/bala

.php

2023-10-03
03:30, 04:40,
04:48, 05:02
151.**.**.235
2804:b44:**:0:35
193.**.**.83
85.**.**.23
45.**.**.214
5 times
Firefox, Fedora
https://www.kenstudyjourney.cn

/wp-login.php


https://status.kenstudyjourney.cn

/wp-login.php


https://ipv6.kenstudyjourney.cn

/wp-login.php

2023-10-03
00:30
106.**.**.19
9 times
Chrome, Windows
http://47.242.43.5

/admin

/
http://47.242.43.5

/phpMyAdmin

/
http://47.242.43.5

/phpMyAdmin

/explicit_not_exist_path/
2023-10-03
00:21
78.**.**.11
113 times
Chrome, Windows
http://8.134.150.123

/mysqladmin

/index

.php

?lang=en
http://8.134.150.123

/mysql/db

/index

.php

?lang=en
http://8.134.150.123

/db/db-admin

/index

.php

?lang=en
2023-10-02
17:00
143.**.**.152
16 times
Python Requests, Unknown OS
https://www.kenstudyjourney.cn/zb_system/login

.php


https://www.kenstudyjourney.cn

/admin

/privilege

.php

?act=login
https://www.kenstudyjourney.cn

/admin

/index

.php

?act=login
2023-10-02
15:00-15:01
101.**.**.136
14 times
OKHTTP, Unknown OS
Vivo Browser, Android
https://www.kenstudyjourney.cn

/admin

/
https://www.kenstudyjourney.cn/step1

.asp


https://www.kenstudyjourney.cn/verification

.asp

2023-10-02
14:09-14:10
140.**.**.17
120 times
Chrome, Windows
http://8.134.150.123

/sql/phpmanager

/index

.php

?lang=en
http://8.134.150.123

/db/dbadmin

/index

.php

?lang=en
http://8.134.150.123

/mysqlmanager

/index

.php

?lang=en
2023-10-02
12:54-12:55
68.**.**.84
82 times
Chrome, Windows
http://78.141.235.145

/phpMyAdmin-5

/index

.php

?lang=en
http://78.141.235.145

/db/webdb

/index

.php

?lang=en
http://78.141.235.145

/sql/phpmy-admin

/index

.php

?lang=en
2023-10-02
06:28
101.**.**.155
9 times
Chrome, Windows
http://8.134.150.123

/admin

/
http://8.134.150.123

/phpMyAdmin

/
http://8.134.150.123

/phpMyAdmin

/explicit_not_exist_path/
2023-10-02
06:27
139.**.**.35
9 times
2023-10-02
23:32
139.**.**.136
9 times
http://8.134.18.22

/admin

/
http://8.134.18.22

/phpMyAdmin

/
http://8.134.18.22

/phpMyAdmin

/explicit_not_exist_path/
2023-10-02
23:25
106.**.**.182
9 times
2023-10-02
20:52
101.**.**.79
9 times
2023-10-02
20:34
139.**.**.32
9 times
2023-10-02
20:27
139.**.**.205
9 times
2023-10-02
20:16
106.**.**.171
9 times
2023-10-02
18:26
139.**.**.15
9 times
2023-10-02
18:20
47.**.**.56
9 times
2023-10-02
16:12
106.**.**.93
9 times
2023-10-02
16:09
139.**.**.85
9 times
2023-10-02
15:47
47.**.**.217
9 times
2023-10-02
15:46
139.**.**.139
9 times
2023-10-02
14:24
139.**.**.35
9 times
2023-10-02
12:47
47.**.**.64
9 times
2023-10-02
05:59
106.**.**.169
9 times
2023-10-02
05:52
106.**.**.33
9 times
2023-10-02
20:22
106.**.**.160
9 times
http://47.242.43.5

/admin

/
http://47.242.43.5

/phpMyAdmin

/
http://47.242.43.5

/phpMyAdmin

/explicit_not_exist_path/
2023-10-02
06:50
106.**.**.12
9 times
2023-10-02
06:42
47.**.**.217
9 times
2023-10-02
06:34
101.**.**.120
9 times
2023-10-02
06:33
101.**.**.180
9 times
2023-10-02
05:11
106.**.**.205
9 times
2023-10-02
04:09
101.**.**.183
6 times
2023-10-01
14:16, 21:43,
23:22, 23:37
38.**.**.118
64.**.**.230
202.**.**.169
4 times
Python Requests, Unknown OS
https://www.kenstudyjourney.cn

/admin.php

2023-10-01
22:02
161.**.**.44
45.**.**.197
3 times
Chrome, macOS
https://47.242.43.5/owa/auth/logon

.aspx


https://47.242.43.5

/api

/sonicos/auth/
https://47.242.43.5

/api

/sonicos/tfa/
2023-10-01
13:16
159.**.**.227
174.**.**.206
3 times
https://8.134.150.123/owa/auth/logon

.aspx


https://8.134.150.123

/api

/sonicos/auth/
https://8.134.150.123

/api

/sonicos/tfa/
2023-10-01
12:37
165.**.**.205
144.**.**.72
3 times
https://8.134.18.22/owa/auth/logon

.aspx


https://8.134.18.22

/api

/sonicos/auth/
https://8.134.18.22

/api

/sonicos/tfa/
2023-10-01
06:57
142.**.**.173
146.**.**.26
3 times
https://78.141.235.145/owa/auth/logon

.aspx


https://78.141.235.145

/api

/sonicos/auth/
https://78.141.235.145

/api

/sonicos/tfa/
2023-10-01
05:48-05:51
78.**.**.26
109.**.**.123
6 times
Chrome, Windows
https://www.kenstudyjourney.cn

/wp-includes

/js/.js

.php

?slince_golden=1
https://www.kenstudyjourney.cn

/wp-content

/.wp-content

.php

?slince_golden=1
https://www.kenstudyjourney.cn

/wp-admin

/images/.images

.php

?slince_golden=1
2023-09-30
16:21, 20:28
119.**.**.122
2 times
Firefox, Windows
https://www.kenstudyjourney.cn/include/upfile

.php

2023-09-30
16:19, 16:29
103.**.**.226
2 times
https://www.kenstudyjourney.cn

/wp-login.php

2023-09-30
06:47-06:48
5.**.**.176
12 times
Chrome, Android
https://www.kenstudyjourney.cn

/wp-content/plugins

/ht-mega-for-elementor/readme.txt
https://www.kenstudyjourney.cn

/wp-content/plugins

/wp-post-author/readme.txt
https://www.kenstudyjourney.cn

/wp-content/plugins

/woocommerce-payments/readme.txt
2023-09-29
15:12-15:13
84.**.**.180
114 times
Chrome, Windows
http://78.141.235.145

/phppma

/index

.php

?lang=en
http://78.141.235.145

/sql/phpmanager

/index

.php

?lang=en
http://78.141.235.145

/administrator/PMA

/index

.php

?lang=en
http://78.141.235.145

/db/db-admin

/index

.php

?lang=en
http://78.141.235.145

/phpmyadmin_

/index

.php

?lang=en
http://78.141.235.145

/wp-content/plugins

/portable-phpmyadmin/wp-pma-mod/index

.php

?lang=en
2023-09-28
13:29-13:30
123.**.**.157
18 times
cURL, Unknown OS
http://8.134.150.123/default

.jsp


http://8.134.150.123/home

.php


http://8.134.150.123

/admin.cgi


http://8.134.150.123/inicio

.asp

2023-09-28
08:50-09:32
217.**.**.42
53 times
Chrome, Windows
wp_is_mobile, wp_is_mobile
https://www.kenstudyjourney.cn

/wp-load.php


https://www.kenstudyjourney.cn/s_e

.php


https://www.kenstudyjourney.cn/s_ne

.php


https://www.kenstudyjourney.cn/beence

.php


https://www.kenstudyjourney.cn

/wp-booking.php


https://www.kenstudyjourney.cn/z

.php

2023-09-28
04:31, 06:06
119.**.**.122
2 times
Firefox, Windows
https://www.kenstudyjourney.cn/include/upfile

.php

2023-09-28
04:25, 05:47,
06:04
103.**.**.226
3 times
https://www.kenstudyjourney.cn

/wp-login.php

2023-09-27
00:23, 14:20,
14:58, 15:07,
17:46, 18:22,
19:32, 22:44,
23:18, 23:54
64.**.**.230
203.**.**.232
61.**.**.77
38.**.**.118
27.**.**.152
180.**.**.160
11 times
Python Requests, Unknown OS
https://www.kenstudyjourney.cn

/admin.php


https://status.kenstudyjourney.cn

/admin.php

2023-09-27
01:00-09:18
14.**.176.

**


157.**.73.

**




(the last part keeps changing)

19 times
Python Requests, Unknown OS
https://www.kenstudyjourney.cn/1

.zip


https://www.kenstudyjourney.cn/kenstudyjourney

.rar


https://www.kenstudyjourney.cn/www.kenstudyjourney.com

.zip


https://www.kenstudyjourney.cn/wwwkenstudyjourneycom

.tar.gz