Hello there! Welcome abroad Ken's Study Journey productive and diligent study pathway and train.
The summer vacation is arriving at the terminal and the new school year is coming soon. It's time to make preparations for your future study.
Before going back to school, you need to prepare your stationeries, study plan and goals, planning apps, books, study habits, and apartment decorations.
You need to make preparations as soon as possible. Once the semester and year is started, you will not be able to start over.
Today, I am going to tell you some preparations you will need to do for your next academic year. Let's jump in!
Stationeries
The first thing you will need to prepare is stationeries, including pens, pencils, rulers, highlighters, compasses, protractors, notebooks and folders.
Grid Notebooks
When I am studying AS and A Level, I have been using my grid notebooks for various subjects.
In the grid, I can determine the font size and write tidily. The vertical lines are helpful to align the text to the left. So I really recommend it for students to take tidy notes.
I can draw some images, such as some axis in Mathematics (9709) and apparatus in Chemistry (9701), accurately in a short time within the grid.
At the beginning of my A Level study, I also designed some knowledgeable covers for each notebook with some relevant IGCSE knowledge.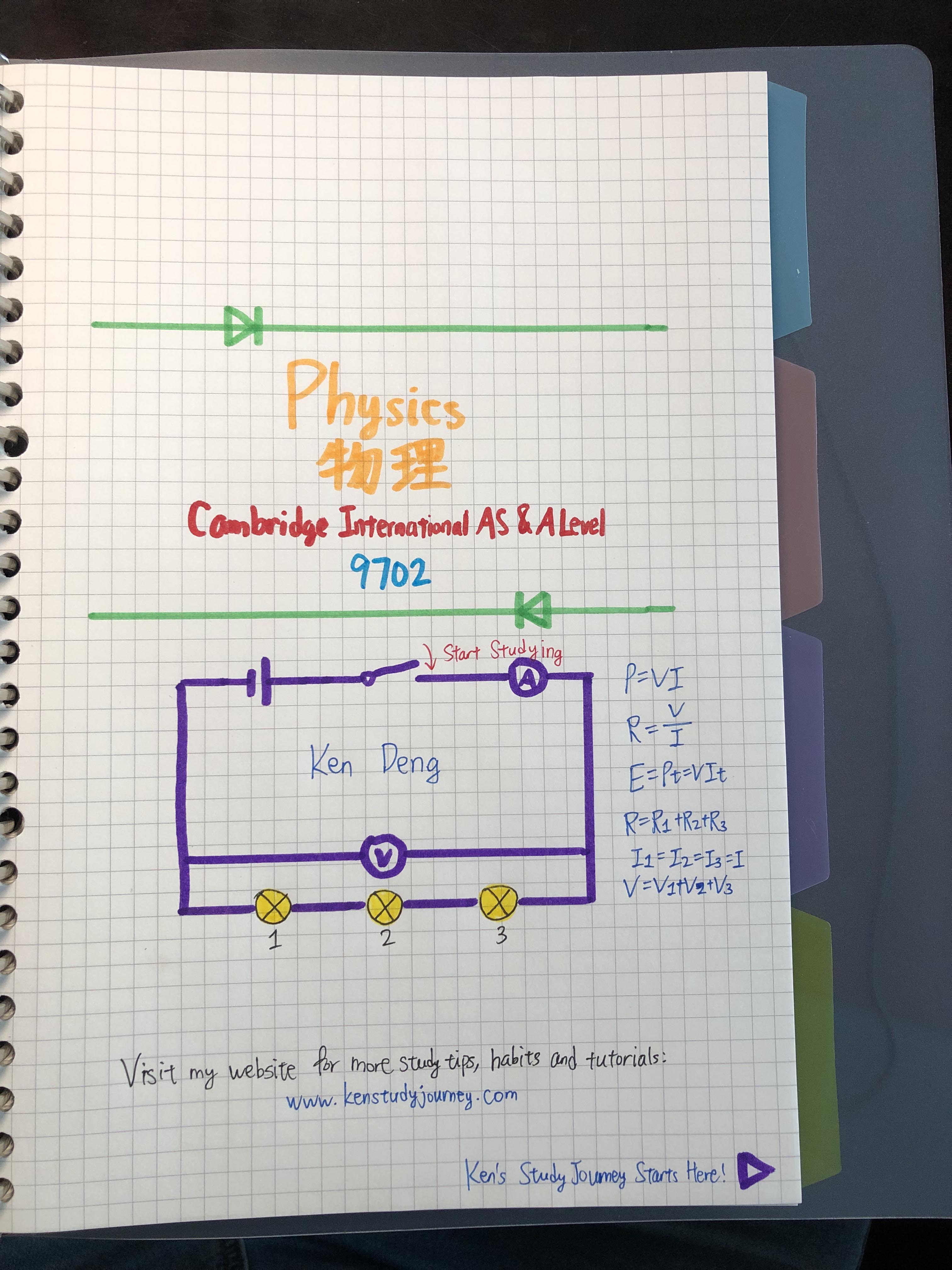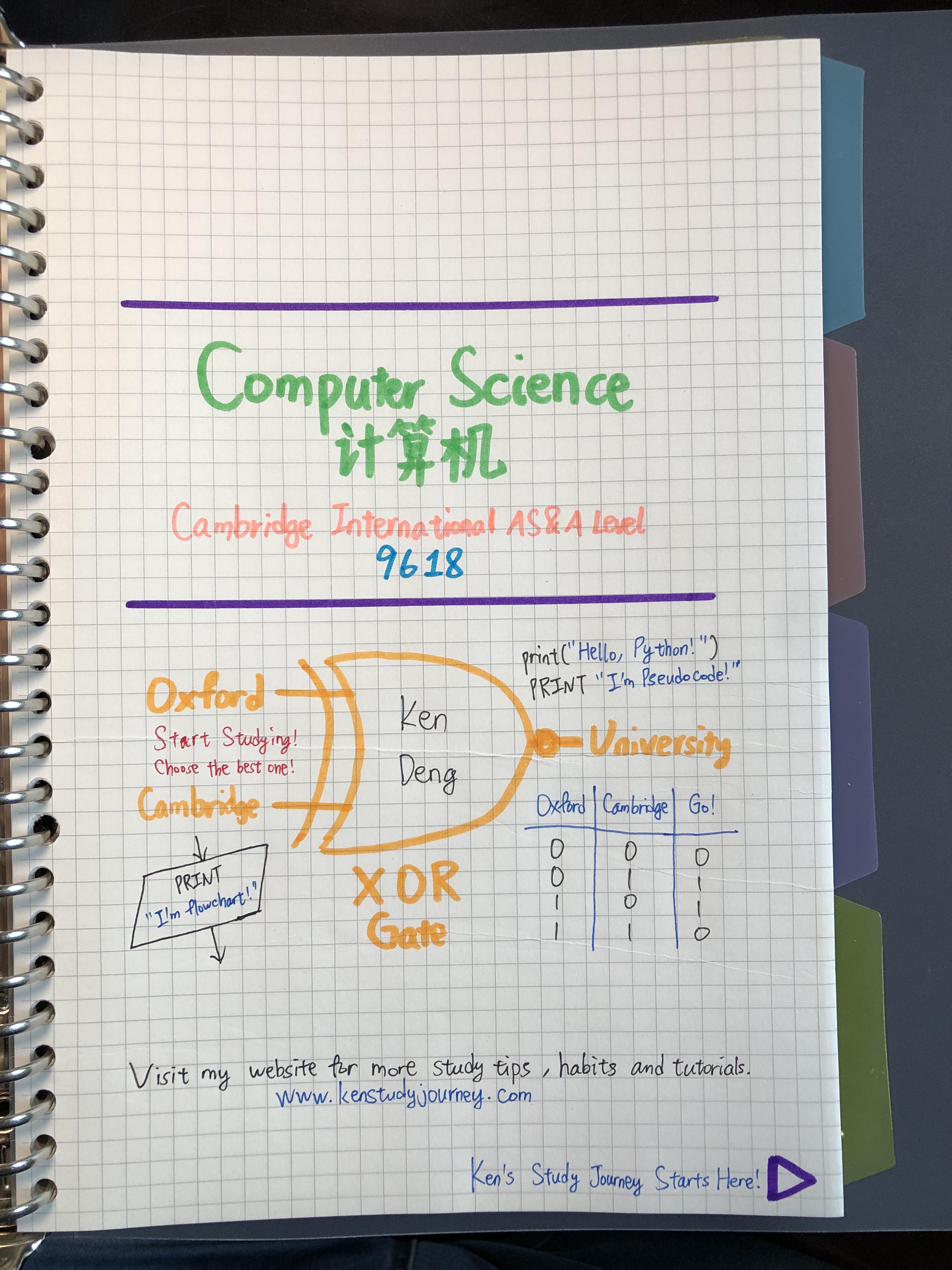 Zipper Folders
Another important tool I have been using is my zipper folders.
Your homework and other paper materials can be messy, so you need some folders to categorise them by subjects.
As well as your notebook cover, you also can stick some labels with subject names and syllabus codes (e.g. 9709), or make and stick some covers with some paper.
I used to have folders with buttons, but the files inside can be dropped out sometimes and the folders can be broken by sharp objects.
So, using folders with zippers can avoid this situation. The only way to take out the files from the folder is to slide the zipper to open it.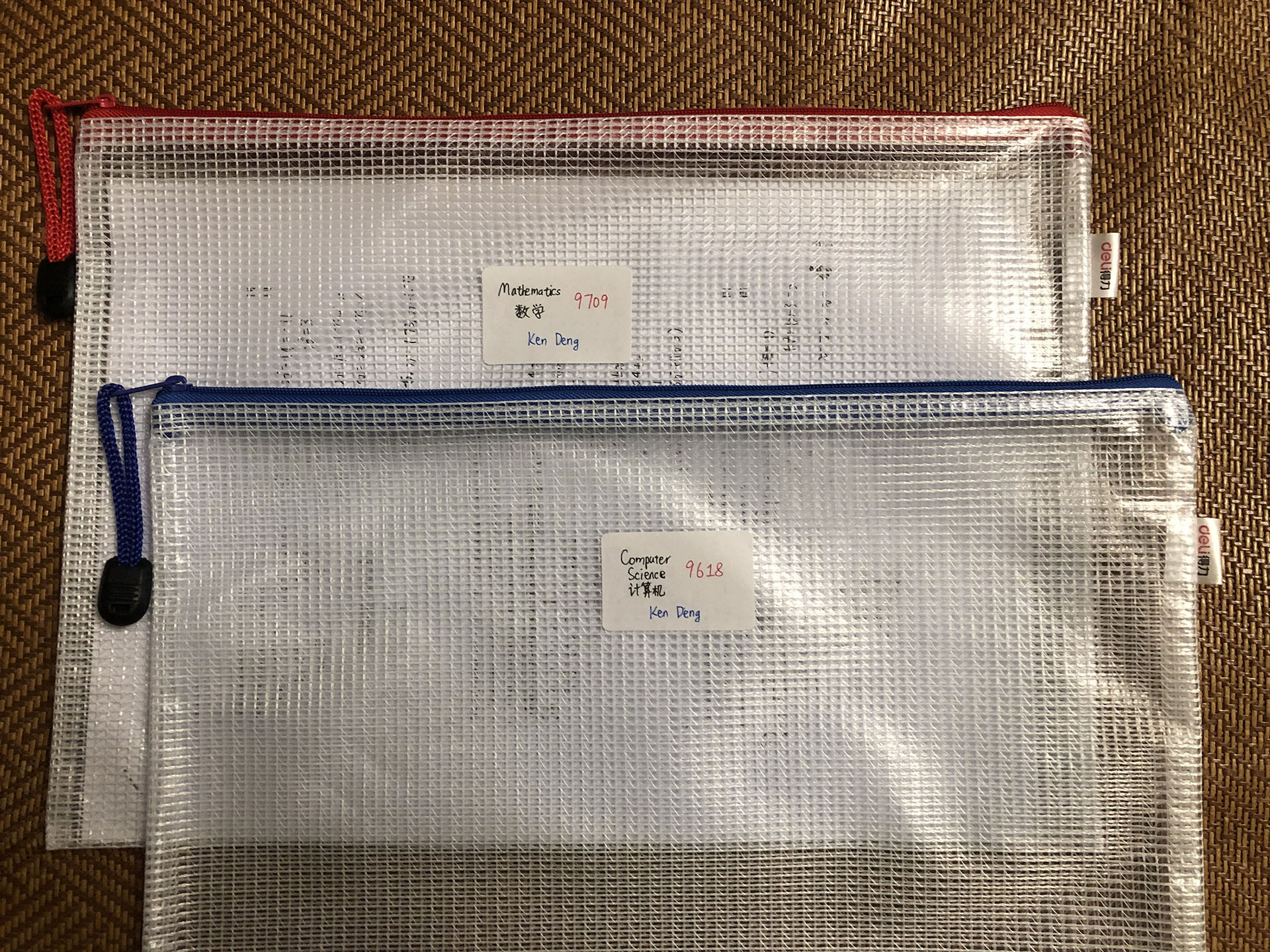 Study Plan and Goals
The second thing is to set your study plan and goals.
If you have set your goals, you will be motivated to study diligently to achieve them.
Daily Goals
I have been setting and upgrading my daily goals since 2020 when I was in junior high school, which has motivated me to have achievements and overtake others.
For example, according to my goals, I need to read books for 15 minutes and one chapter, remember 10 English words, speak and write English for hundreds of sentences, and so on.
You can write down your goals on a piece of paper or your notes app and achieve them every day.
You can start your goals with the smallest amount like 1 (one) at first. Then you can upgrade them afterwards according to your achievement rates.
Daily Goals Checklist
After you have set your daily goals, you will need to take action and track your status, or they will not be useful.
In order to ensure I can achieve my daily goals, I have been using my daily goals checklist since 2020.
You can draw a table on a piece of paper or your notes app, including dates and your goals. At the end of each day before sleeping, you can mark ticks (✔) and crosses (✘) on the table.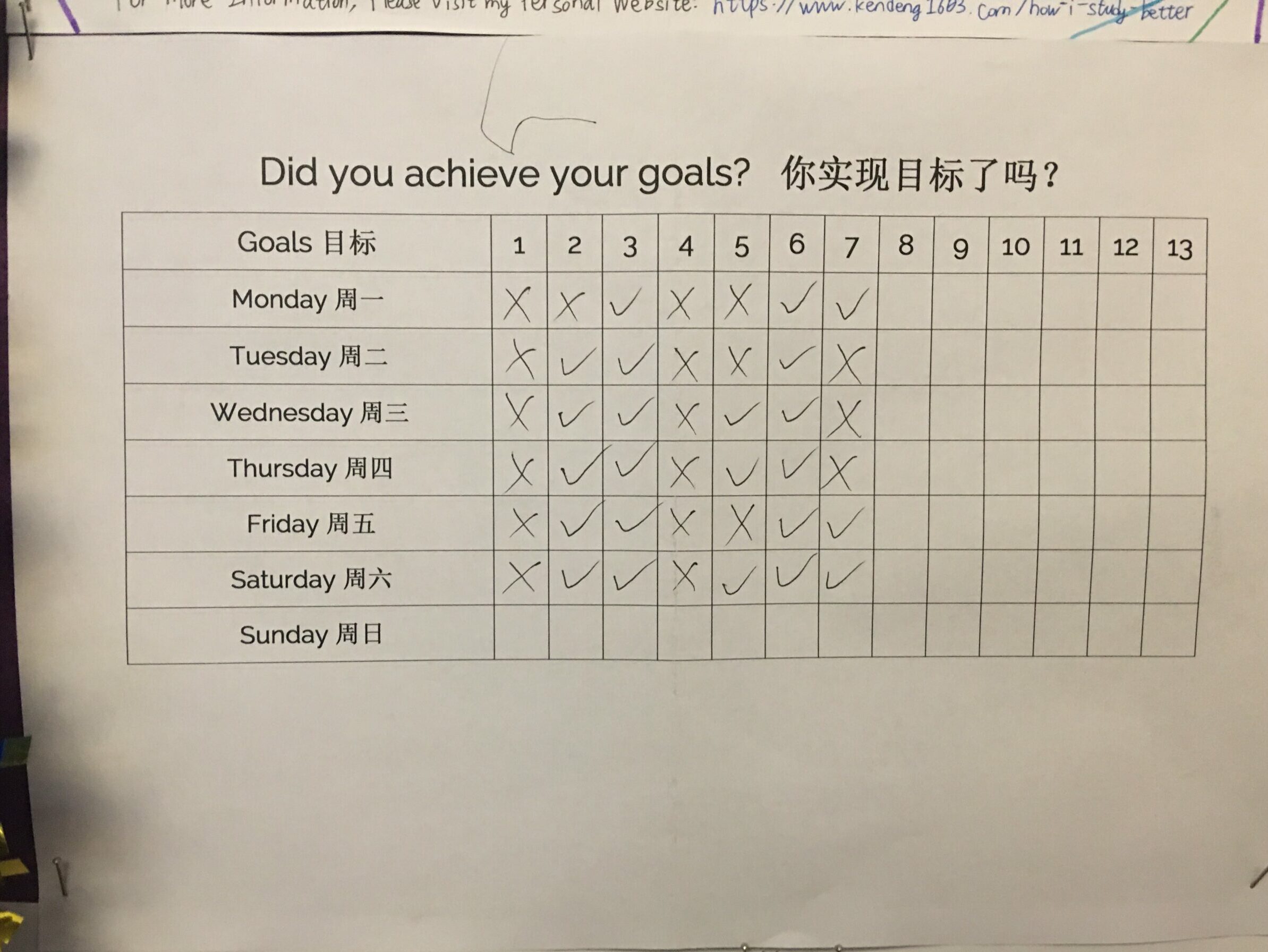 Final Goals
As well as your daily goals, you can also set some final goals. This includes monthly and yearly goals as well as goals for this semester.
For example, your final goals can be passing some exams, winning prizes in competitions, and so on.
My Goals Update
Recently, I have made some updates and amendments to my goals.
In the previous years, I have just improved my results in IGCSE, AS Level and IELTS standardised exams to get more A*s.
I didn't study well in the past, so I must improve such scores and overtake others firstly.
After making such improvements, I will have more time to practise for competitions. I will practise for USACO competitions, IELTS exams and some admission tests.
So, one of my final goals for this academic year will be getting higher prizes from competitions.
The final goals can be split into hundreds of daily parts, so one of my new daily goals will be practising at least 1 USACO question every day at school.
Planning Apps
The third essential is some planning apps.
In order to improve your time-management skills, you also need to have some apps that can help you manage your study plans, projects, events, and so on.
Ken's Study Planner
The first one is the Study Planner web-based app I have programmed.
Since I am a Computer Science student with programming skills, I have made my website and the Planner app to solve my planning difficulties.
My Study Planner contains daily goals checklist with monthly summaries, projects and events managers, schedules and lessons managers, and checklists.
An important feature is that the planner shows how many days are left until the next exam or event on its Home Page.
The boxes will turn orange when there are less than 7 days left, and turn red when there are less than 3 days left.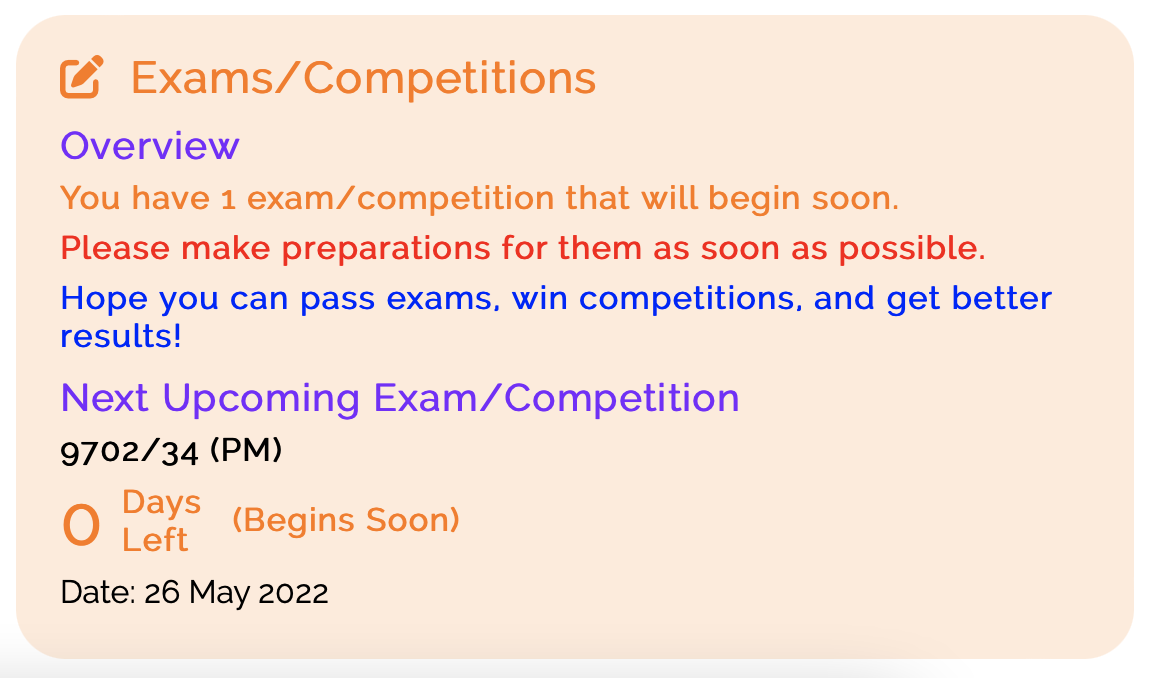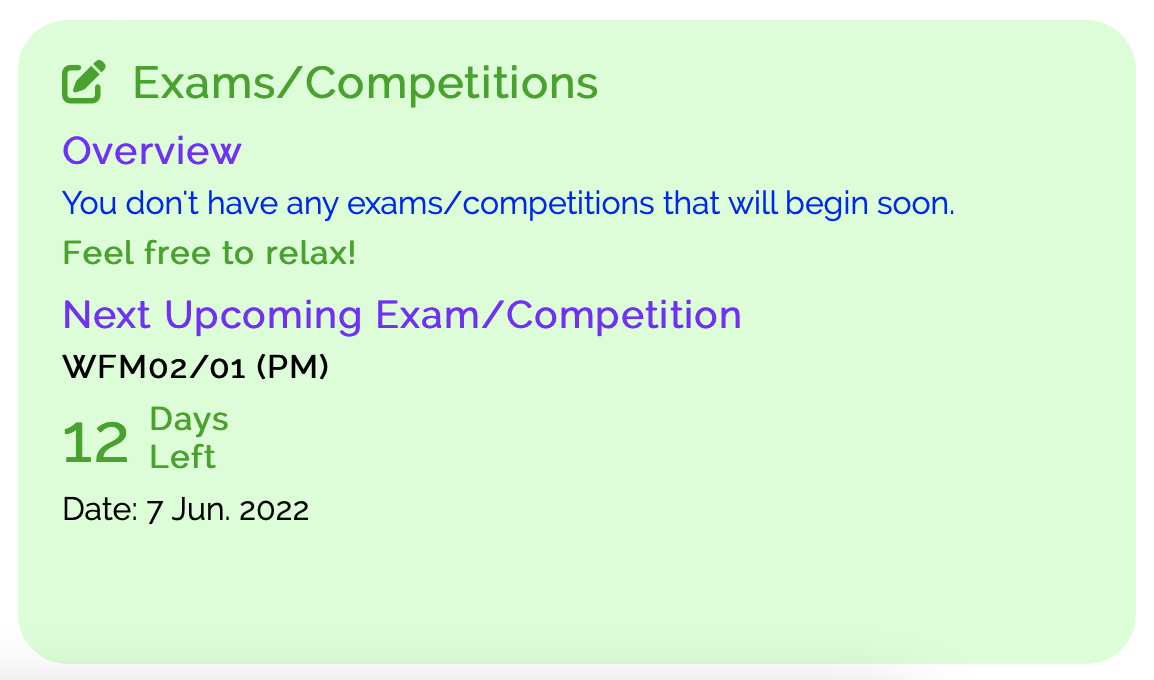 Another one is that it tells you what your next lesson is based on your schedule.

If you are interested in, you can sign up for free* and start making your study plans.
Learn More
Sign Up (Free)
* Note: My resources and apps are Completely Free since I always make and share my resources and tools in my free time.
Notion
Another useful planning app is called Notion, which is recommended by many studying YouTube channels I have been watching.
I haven't set up this app yet because I was very busy recently, so I don't know much information about it.
It is an integrated and customisable app that you can create your lists, schedules, calendar, and add other widgets.
I will use both apps because they both have some features that do not exist in each other.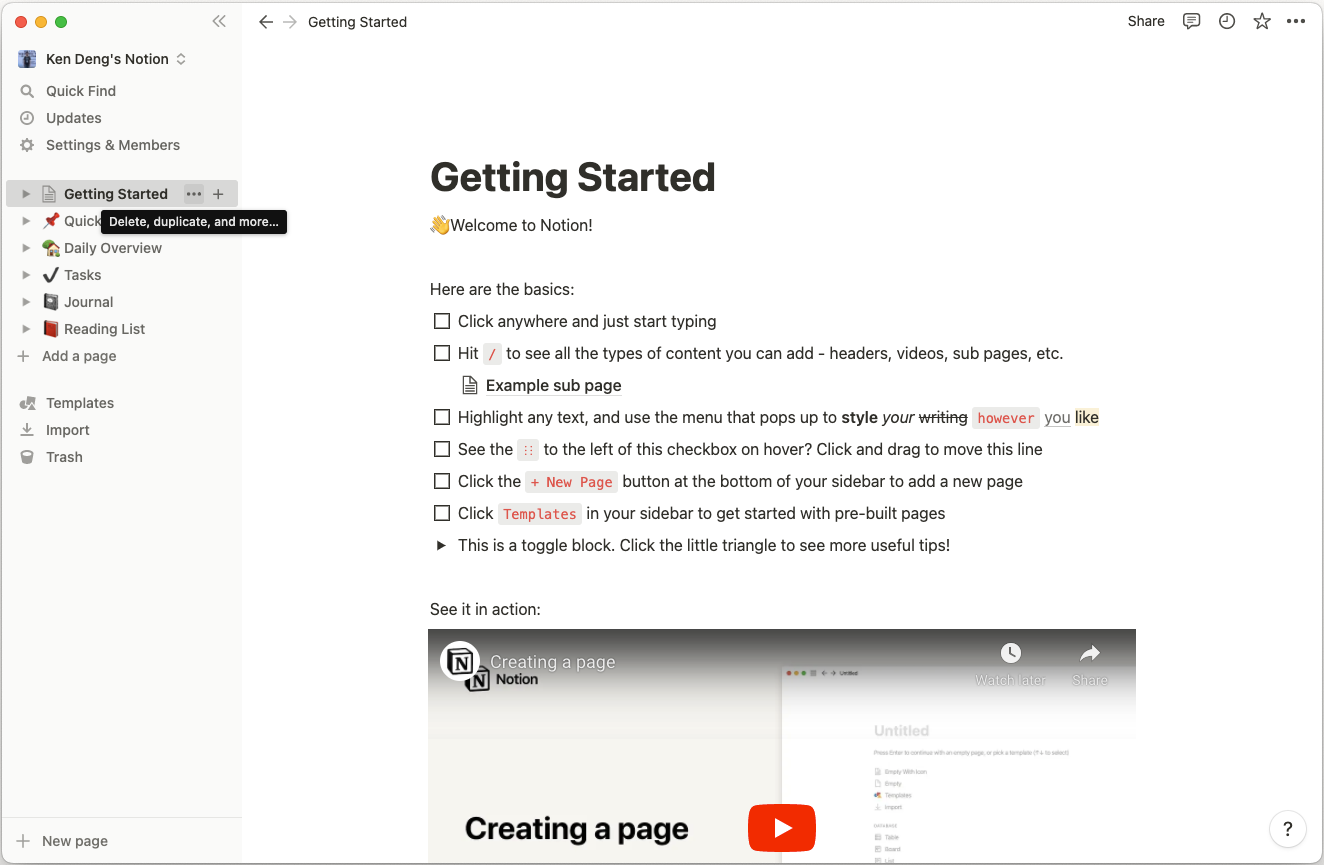 Study Habits
The next thing is to form some study habits. Only with some great study habits and systems can you achieve your goals and have great academic performances.
You need to complete your daily goals, keep your study space and storage tidy, create tasks lists, utilise your free time, and not procrastinate and leave many tasks until deadlines.
Keep your Space Tidy
I have told you that you need to complete your daily goals before, so the first thing is to keep everything tidy.
There are many things that you need to tidy up, including your bags, desks, bookshelves, bedrooms, lockers, and desktops on your computer, phone and iPad.
Bookshelves
First, you need to tidy up your bookshelf. You can put different types of books, folders and paper documents in different locations on your bookshelf. You also can stick some labels for different categories.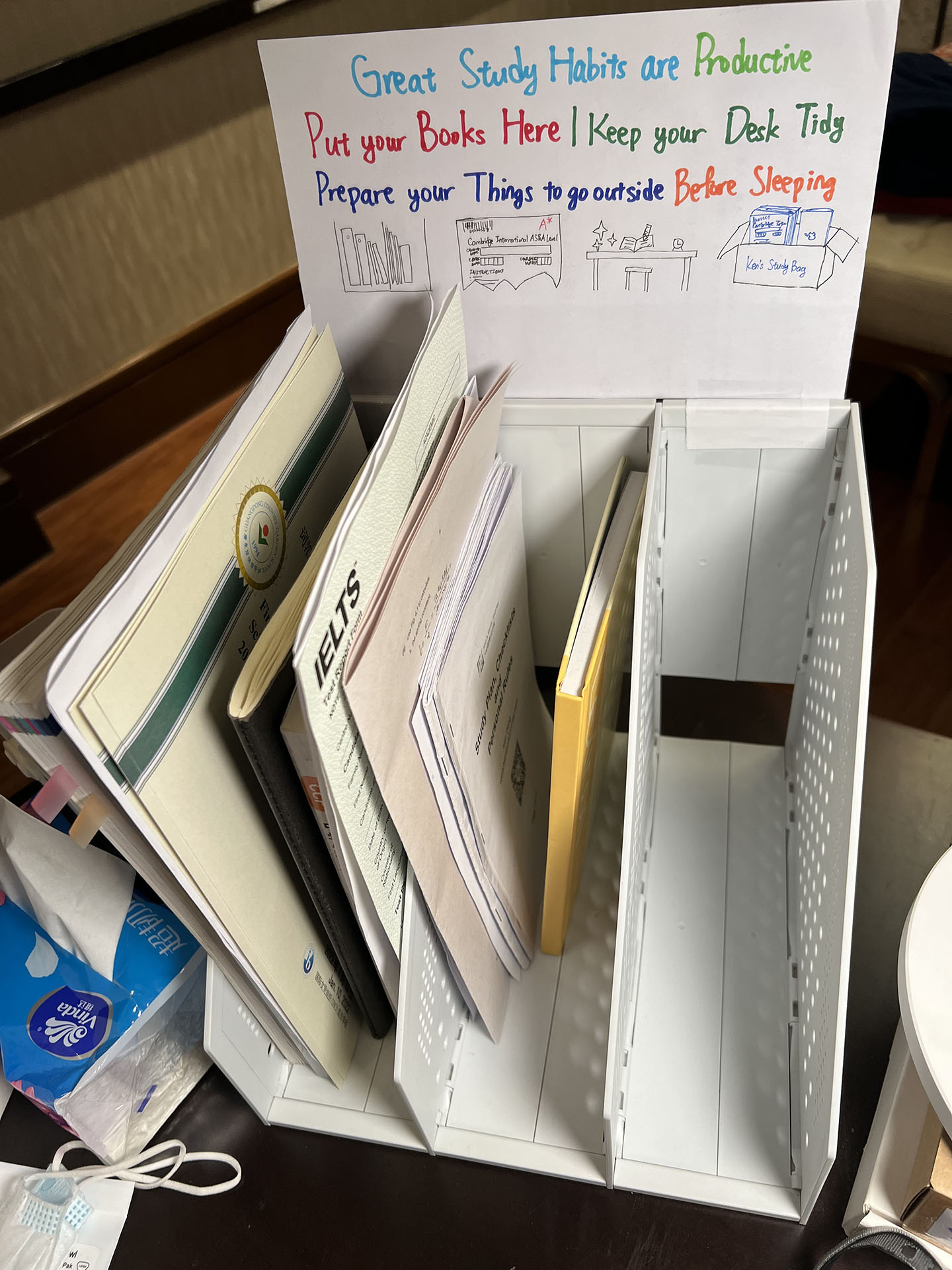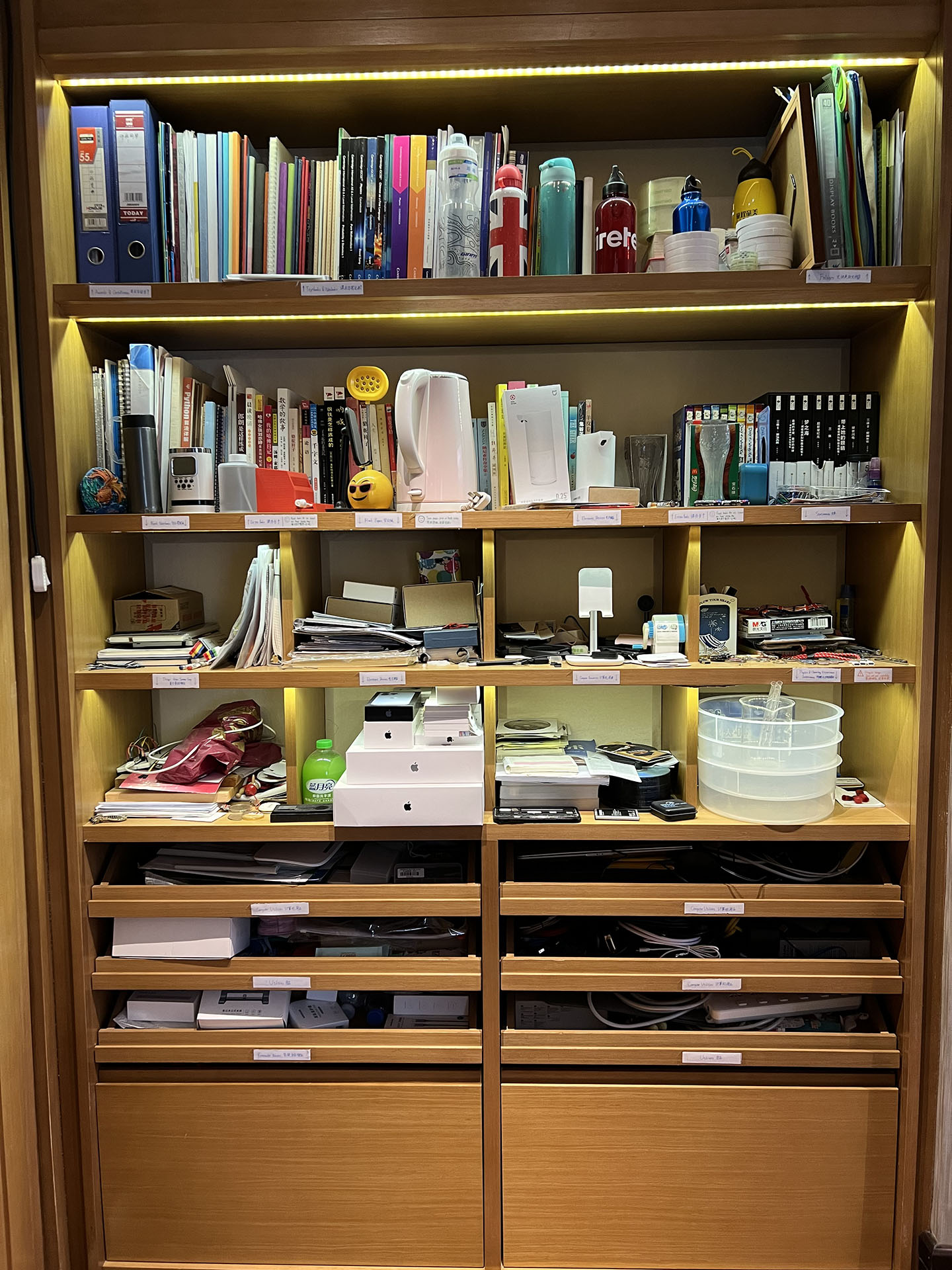 My Bedroom Tour (2022)
Desks
Then is your desks. If your desks are messy, you will have limited study space.
So, I put useless items away from my desk and on my bookshelves, and then put relevant items in the corner of my desk.
For example, during the A Level exam season, I put my past papers, pens and a calculator in the centre of my desk wherever I am studying. Other items such as my laptop, drink and other books are put in the corners.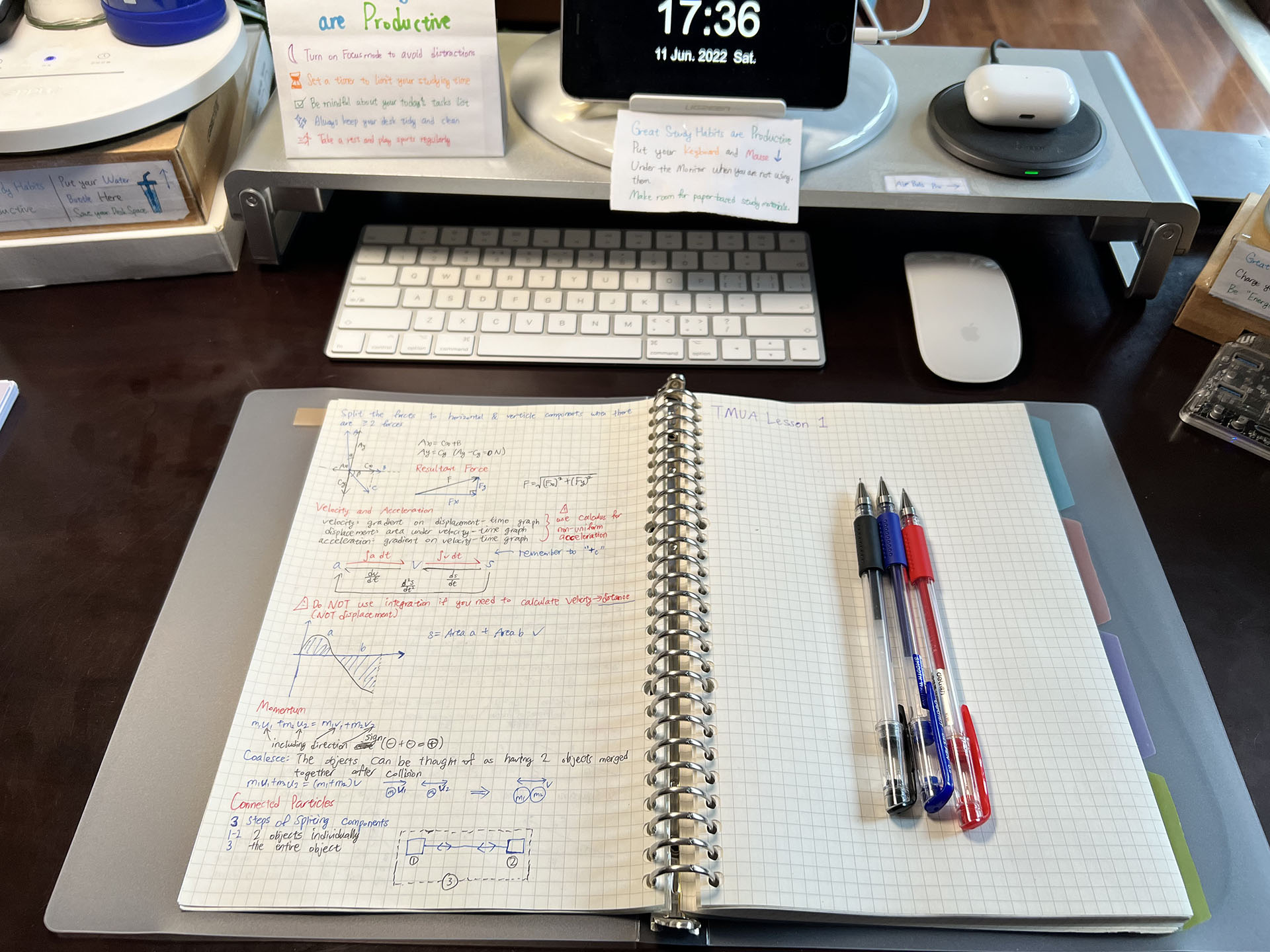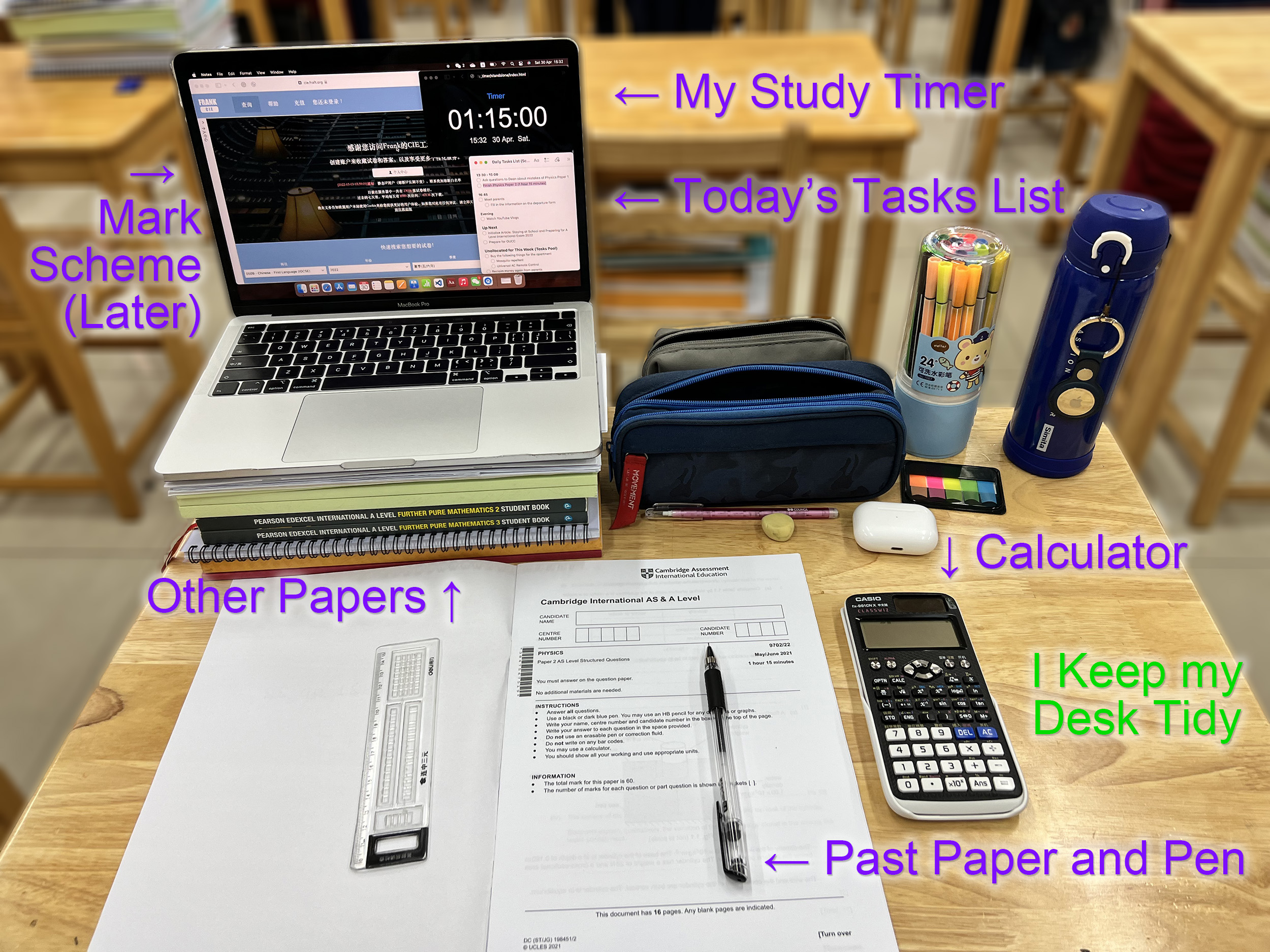 Computer Files
The last thing you need to tidy up is the files and desktop on your computer, phone and iPad.
Your files on your computers and apps on your phones and iPad can also be messy and so as is your paper documents.
So, you also need to create some folders on your computer and categorise your files.
If you are using your computer desktop to store files, you can put similar items together and reserve some spaces for your desktop background (usually in the middle).
If you are using Apple Mac computers, you can also create some tags with different colours and add them to your files and folders.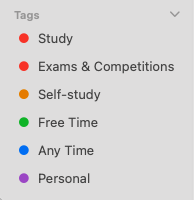 For example, I store files on my iCloud drive using the Apple ecosystem in which the files are synchronised among my devices. In my drive, there are three folders:
Study
Personal
Web Server Files (for programming and local server use)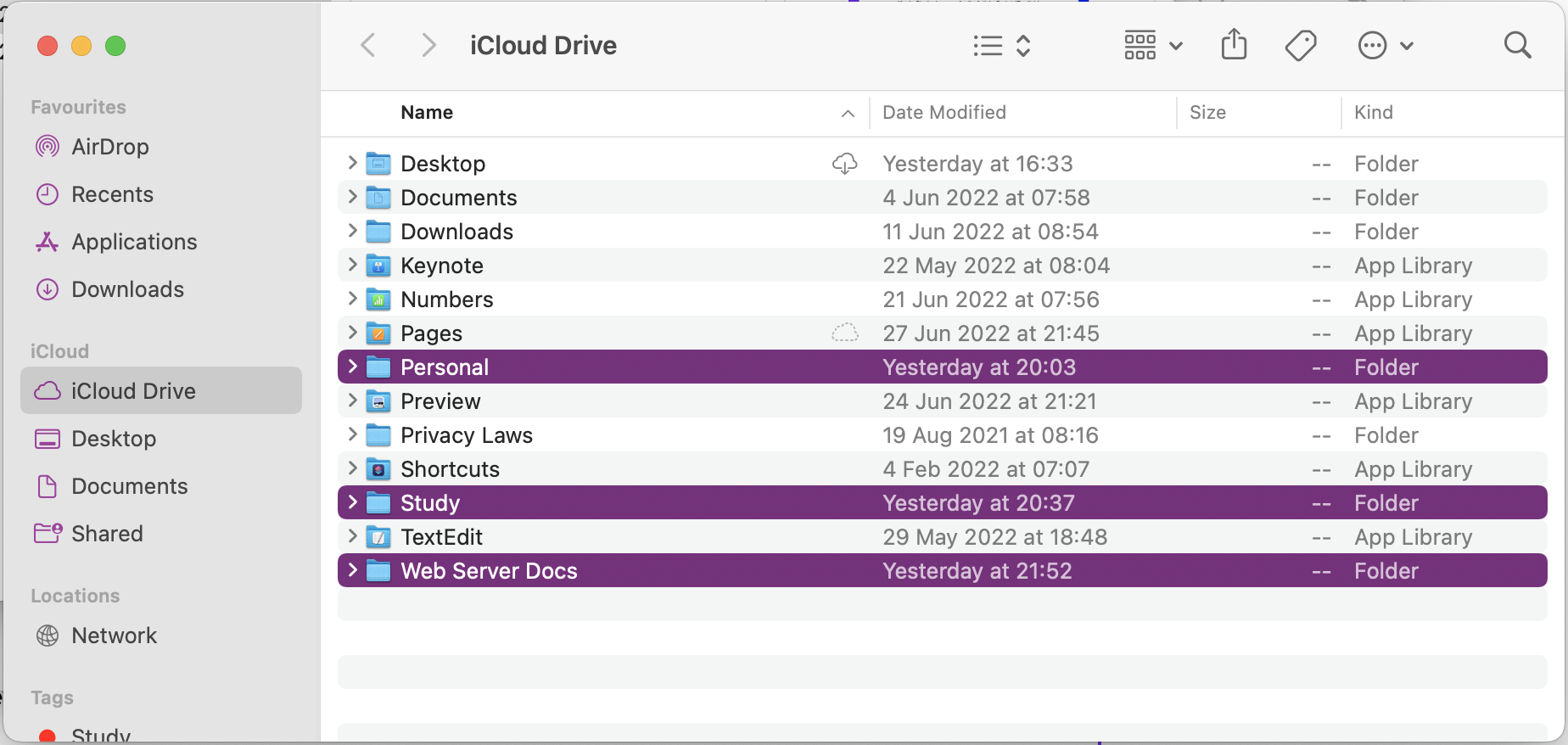 Phone/iPad Home Screens
As well as your files, you also need to organise the icons and widgets on your phone and iPad.
On later iOS and iPadOS, you can add widgets directly on your Home Screen which is similar to Android phones.
For example, I put my daily apps on my iPhone's first two screens, study apps on the third screen, and social media and news on the last screen.
On iOS and iPadOS 15, I also disable the last screen with all distracting apps in some Focus Modes.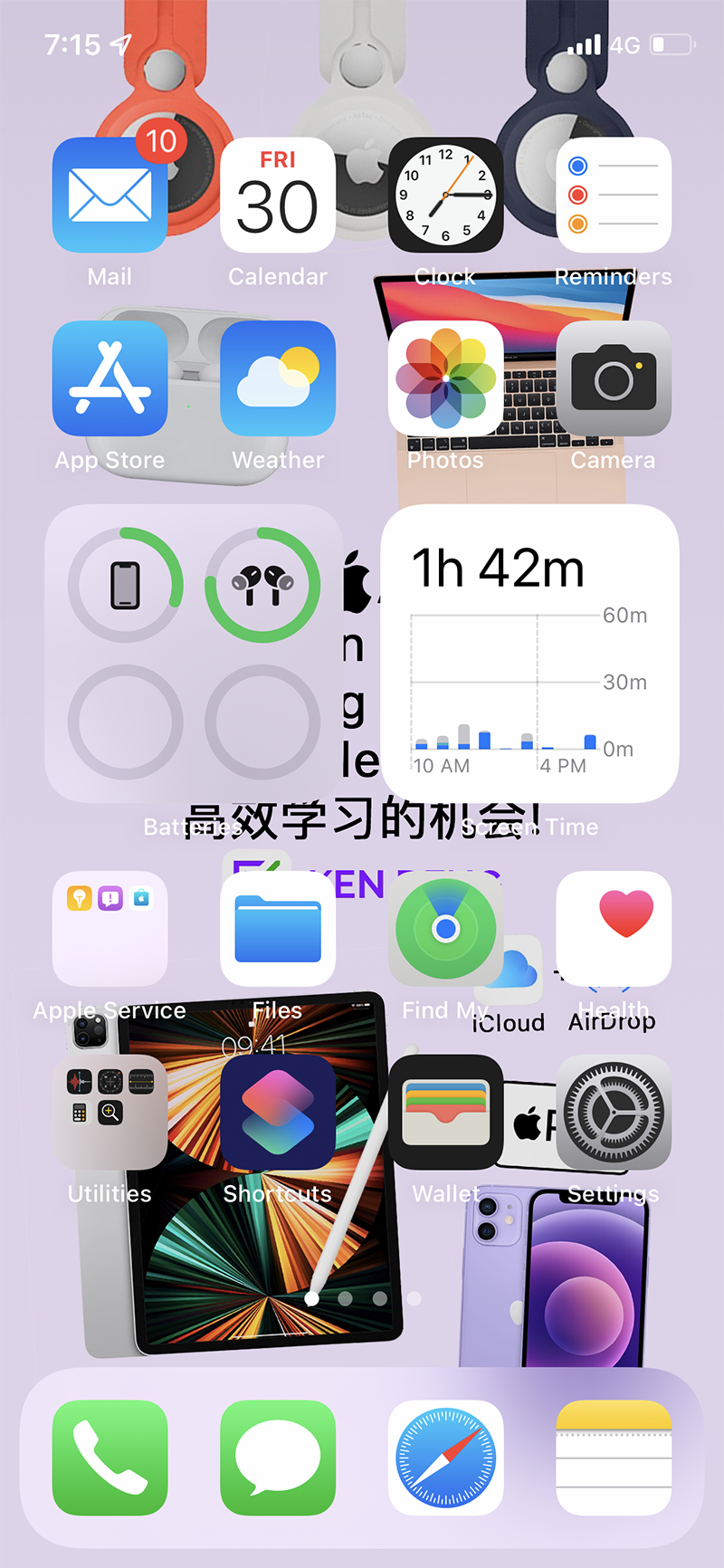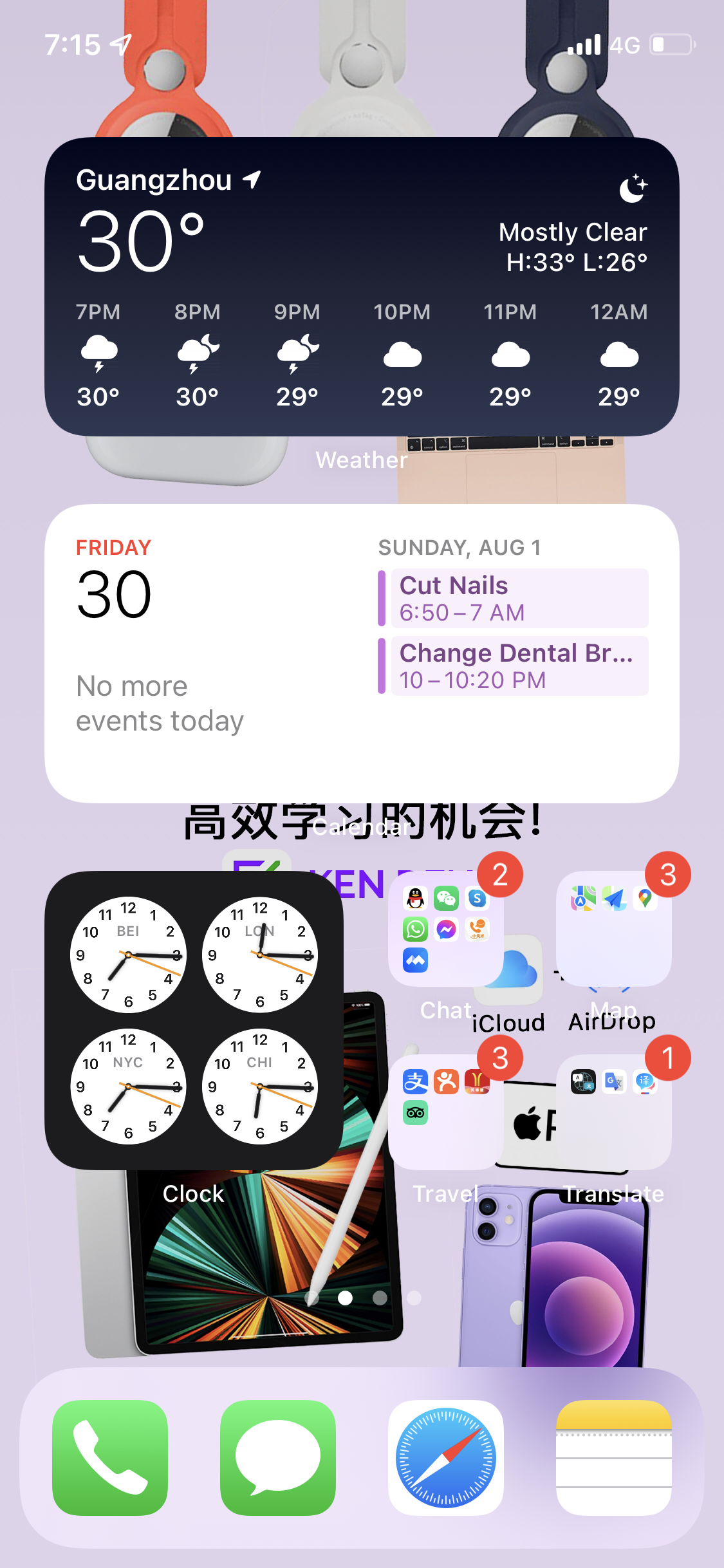 On iOS and iPadOS, you can drag one app icon onto another app icon to create a folder. Then you can drag more app icons to the folders.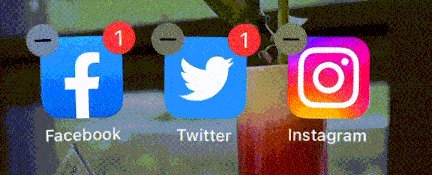 After organising my iPhone home screens, I also organise the LaunchPad and Dock on my Mac computers.
If you are using computers with Windows 8, 8.1, 10 or 11, you can organise the tiles in the Start Menu as well as the Task Bar.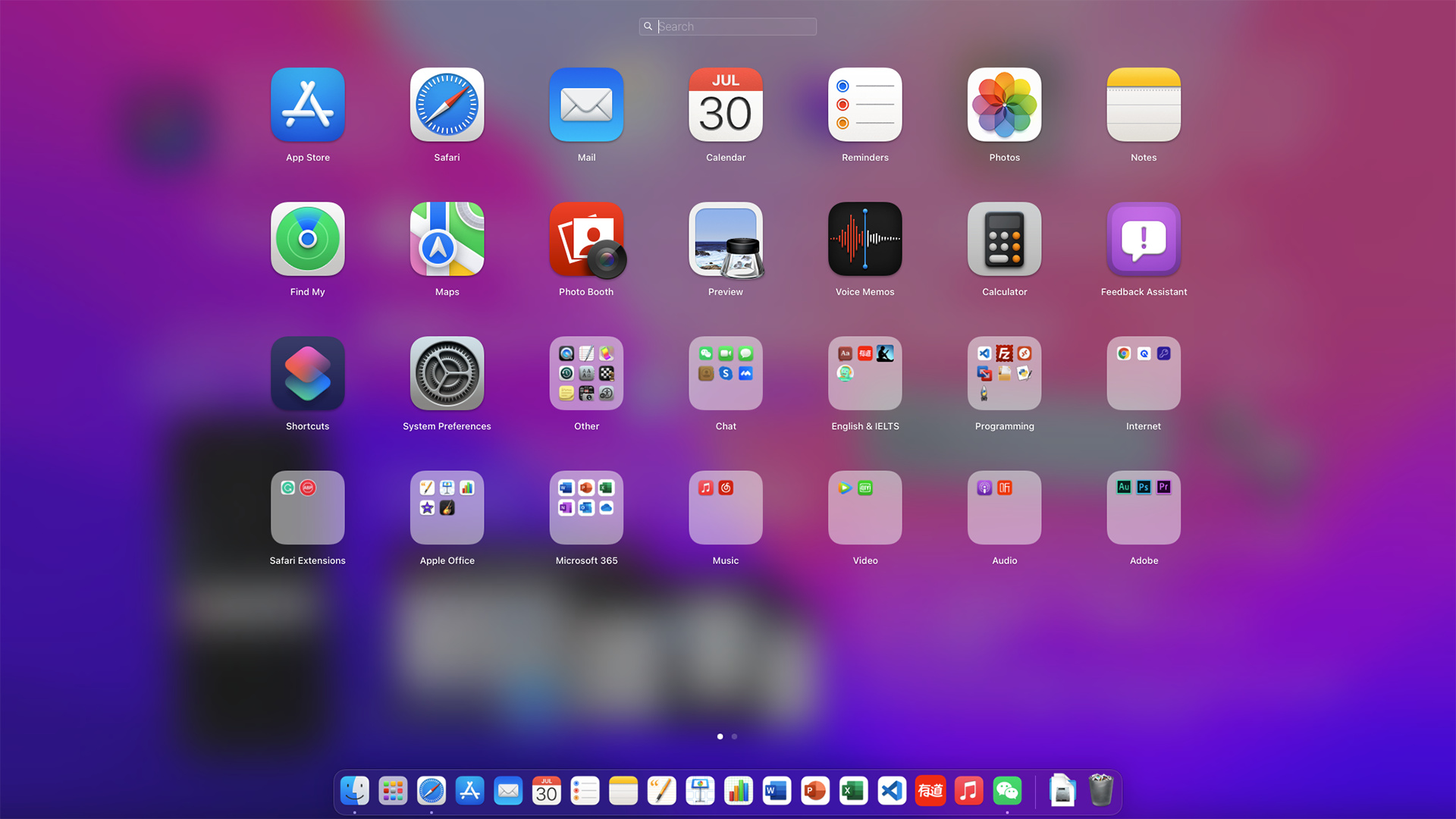 Create Tasks Lists
Another useful study habit is to create some daily tasks lists. Some people call it Calendar Blocking.
By creating a tasks list for the day, you will only do the things you need to do to avoid distractions.
I have been using this methodology for almost a year, which has significantly improved my productivity.
Setting up a tasks list is not a difficult task. You just need a piece of paper or your notes app to write down the tasks to do later.
You need to write down the time ranges and then allocate your tasks. You can make your tomorrow's tasks list at the end of the day before sleeping.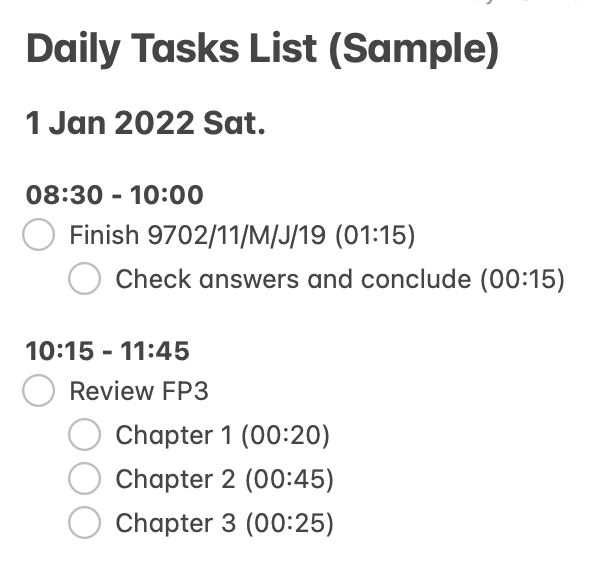 Learn More
Desktop Backgrounds
Before a semester, you can also make some desktop backgrounds for your computers, iPad and phone. This can create motivation on your study journey.
For example, you can write how many A*s you want to get, what schools you want to apply, your final goals, study habits reminders, and so on.
You can use Photoshop, PowerPoint, Keynote, Word and Pages with screenshots to make your images.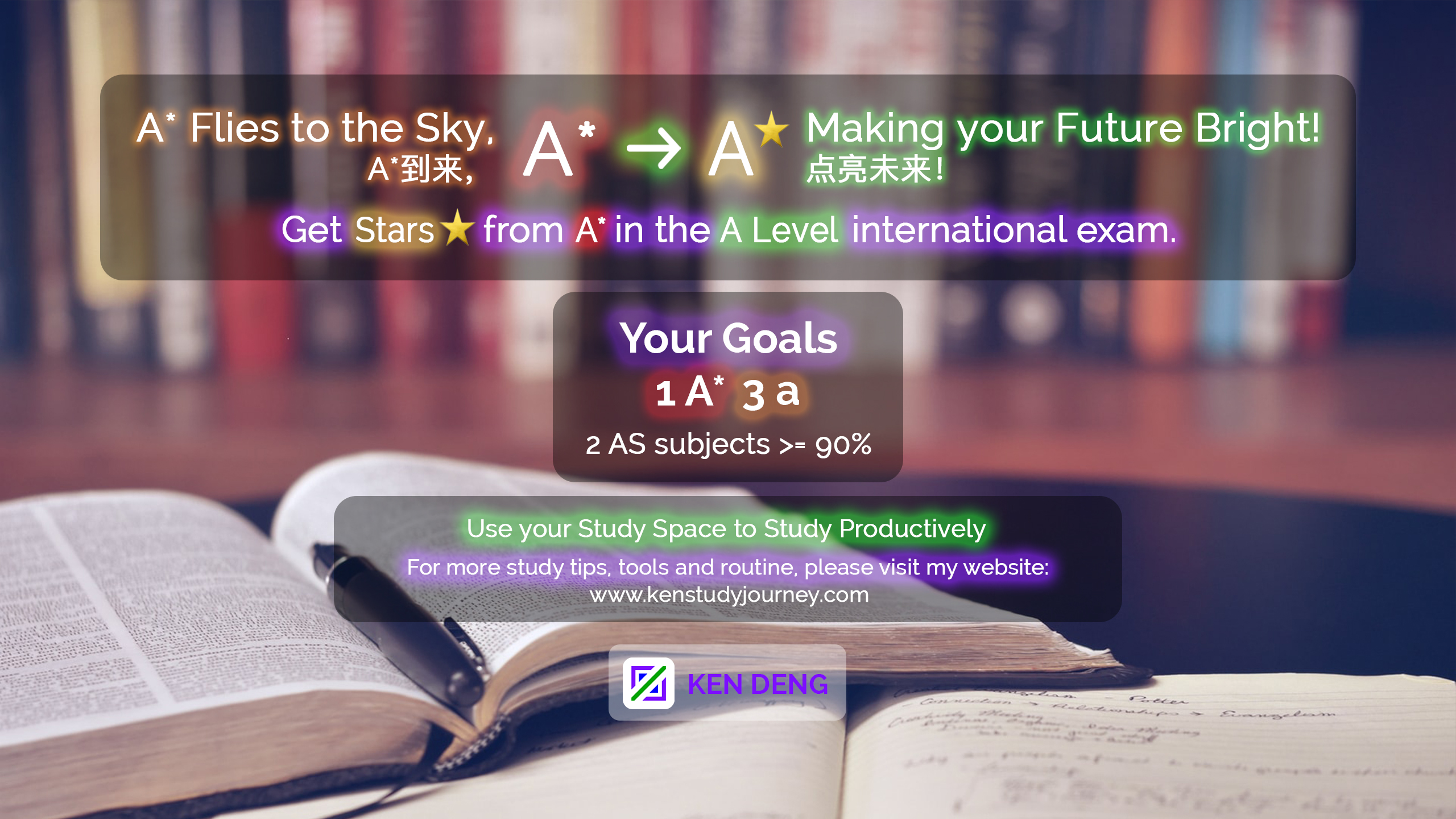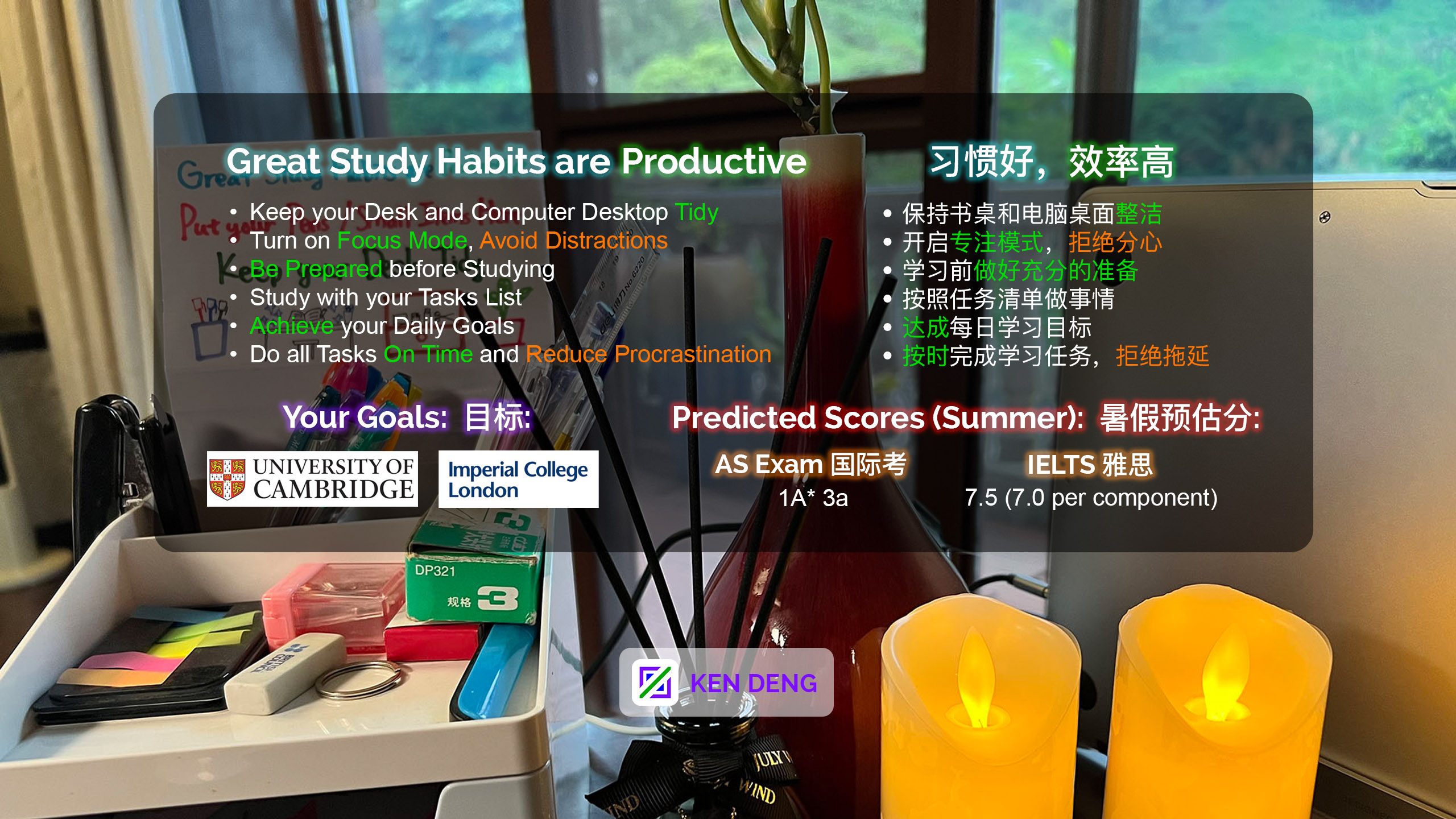 Apartment Decorations
The last thing to prepare is your apartment decorations.
If you are living in an apartment which allows decorations, you can prepare for it now as you will be productive with such items in your bedroom.
You can buy some fairy lights, rattans, clocks, lamps, perfumes, boards, stickers, bookshelves, and so on.
For example, in my previous apartment, I used a bookshelf, a pinboard, and some Great Study Habits posters, and so on.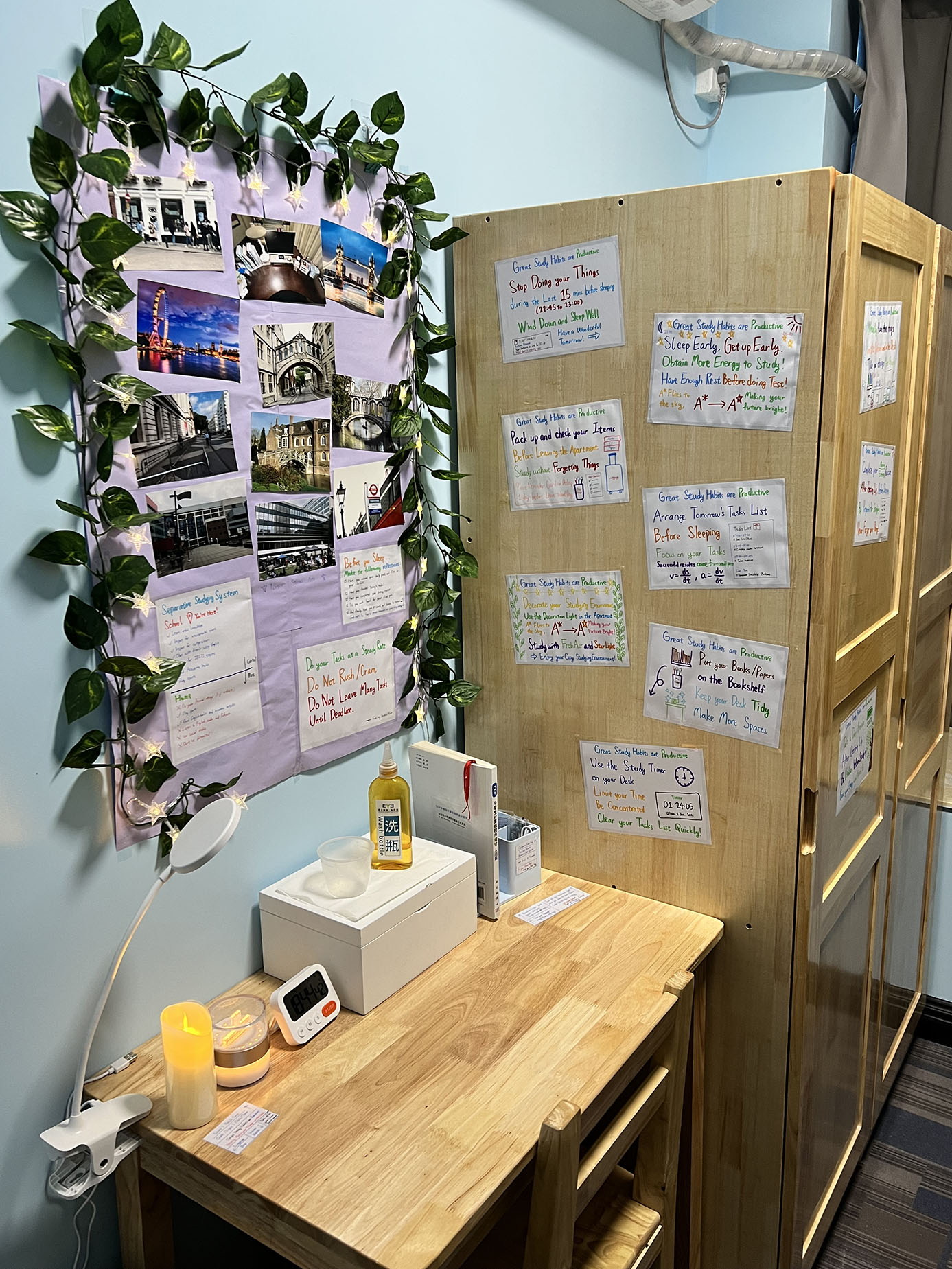 Explore More Study Tips
These are my recommendations of some preparations you need to do before your new A Level semester and academic year.
I hope you can study productively and diligently with my suggestions.
If you like this article, please drop a 'like' thumb up below.
You can share and recommend this article to your friends and classmates if you wish, and write comments below about your feelings, questions and your school life.
Follow my social media to learn more about my latest information.
Instagram/Pinterest: @kenstudyjourney
Subscribe to my email newsletter if you need to receive my latest articles and news.