All of a sudden, due to the escalation of the pandemic and lockdown, all offline lessons were cancelled and we needed to have online lessons. We are all preparing for A Level exams or assessments.
Great study habits are productive. I always form great study habits while studying whether I am at home, at school, or in other places such as café and library.
I had designed and installed some decorations in my home bedroom, which has then become useful for enjoying a cosy studying environment during the online lessons period.
Because of the upcoming A Level international exam or the school assessment in case of the exam cancellation, we still need to work hard regardless of the places we are studying.
Today, I am going to introduce my A Level online lesson study journey and how can I boost my productivity. Follow me!
Note: All photos displayed in this article were already taken at weekends.
Why do we have Online Lessons?
We normally attend lessons at school so we can chat and communicate with our classmates about our ideas and experiences.
However, due to the escalation of the pandemic, all offline lessons were cancelled until its mitigation. This can reduce gathering and mitigate the pandemic since we stay at our homes.
We need to always study wherever we are so that we will not waste our valuable time. So, we continue our studying process using the online classroom at home.
More importantly, there are some upcoming international exams or the school assessment with portfolios of evidence in case of the exam cancellation. So, we can utilise this time in the pandemic to overtake others.
This is similar to the Virtual Reality technology which allows people to have the same experience at certain places while staying at home.
This is the third time I have had online lessons at home so far. I have already had online lessons at February 2020 and June 2021.
Schedule and Routine
The schedule and my study routine are exactly the same at school so that we can enjoy the school-like experience.
I usually go to my home's gym in the basement at 09:50-10:10, 16:30-17:30 to take exercise including table tennis and bicycles. I also go to the school gym actively to play sports when I am at school.
As similar to my school apartment, we usually get up at 06:50 and sleep at 23:00. However, I usually sleep at 22:30 at home.
We have breakfast, lunch and dinner at 07:00, 11:40 and 17:00 respectively. I asked my aunt to cook meals on time so that I can enjoy the school-like fixed schedule. However, we usually have dinner at 18:00 in order to wait for parents.
The evening lessons end at 21:50,when I usually make reflections for the day and plan for tomorrow. The lights and my bedroom's timers are dimmed (the brightness is lower) and the curtains are closed during the wind down process in the last 15 minutes of the day.
My desk clock in the bedroom will display a reminder "30 minutes until sleeping time" at 22:00.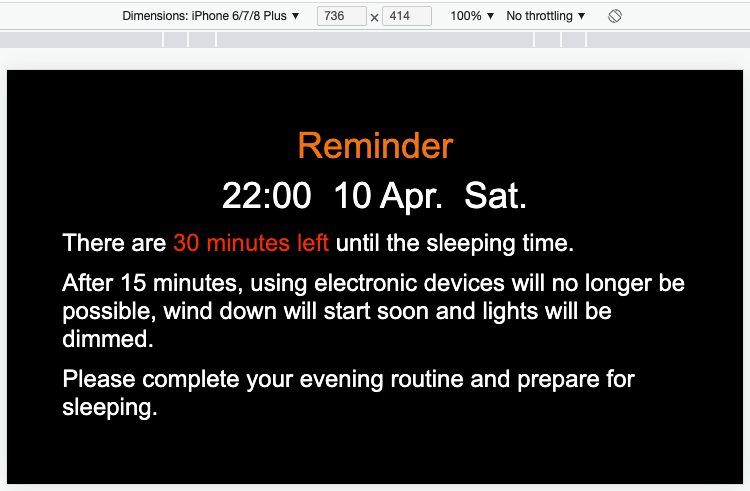 I usually use my study clock and timer on the desk to limit my studying time.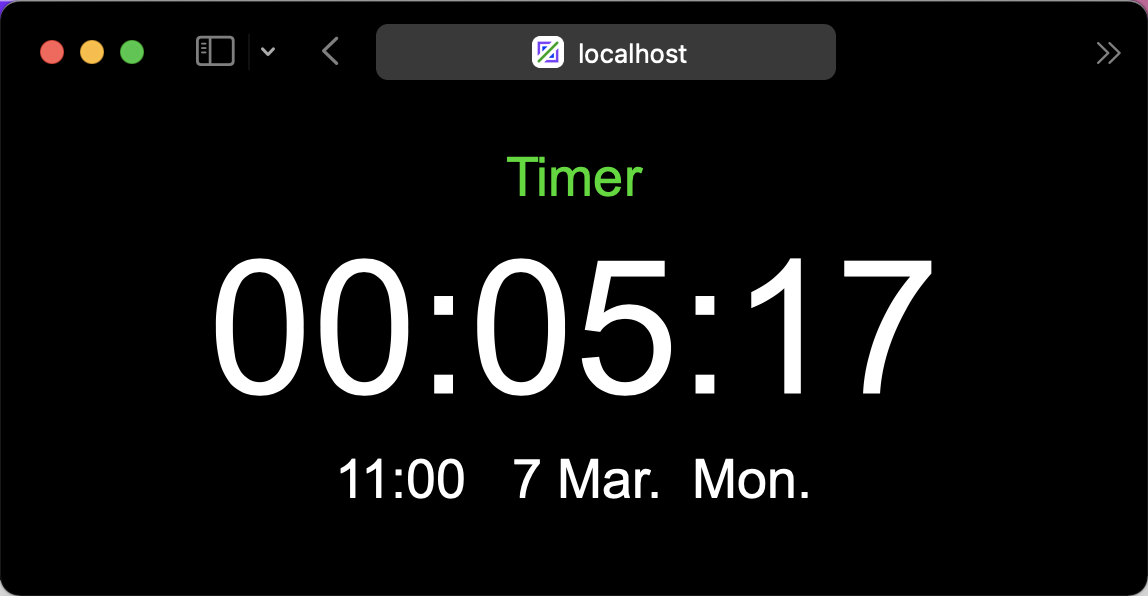 Using Separative Studying System
While making decorations for my bedroom and school apartment, I have also made a separative studying system which lets me to do the correct things at different places.
I normally have lessons, practice the IELTS exam, chat with friends using English, and read some academic books at school. During the weekends and holidays at home, I usually do my personal things including my website and bedroom decorations as well as going outside and relax.
The following two stickers were sticked at my home and school apartment's pinboards respectively.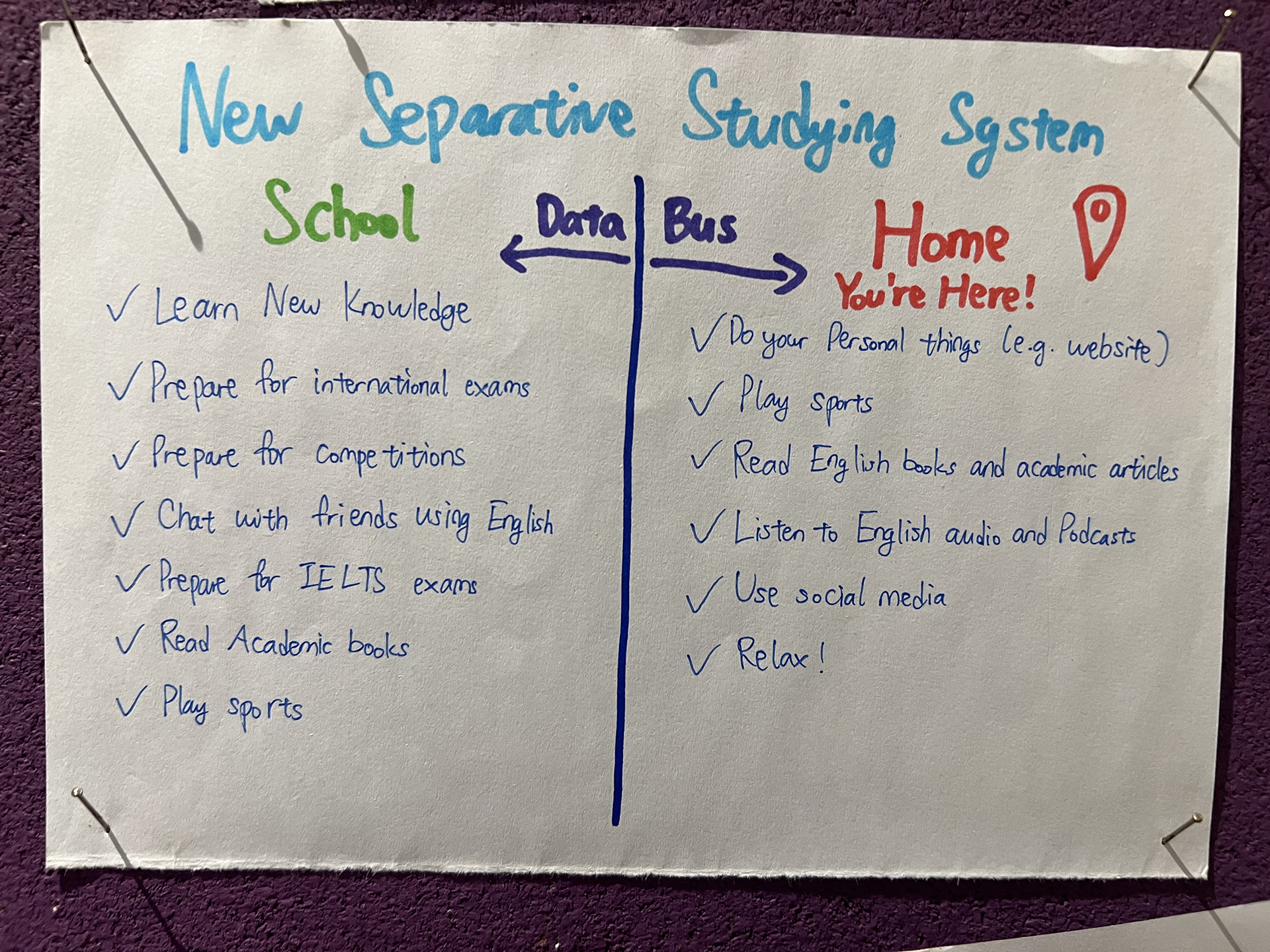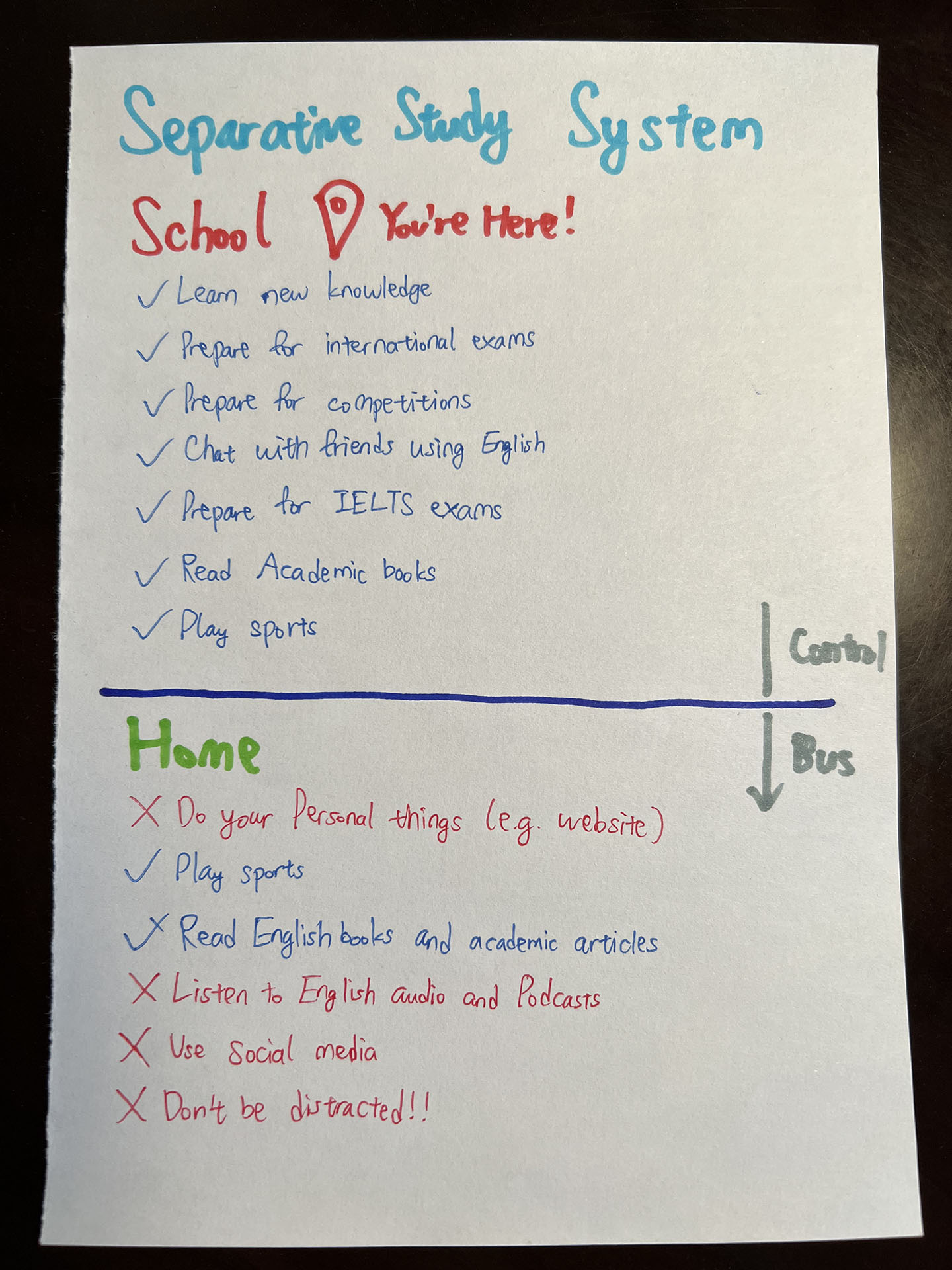 During the online lessons period from Monday to Friday, I follow the former since it is the studying time similar as my school life.
Benefits of Home Study
Before I talk about my productive study tips of online lessons during the pandemic, I would like to talk about the benefits and drawbacks of home study.
Both my classmates and I believe that we can study productively at school instead of at home. However, we have to stay at home and it also has some benefits.
Fast Dedicated Internet
Since the bandwidth of the Internet cables is limited, we usually experience latency and slower speed when there are substantial waves of people using the same WiFi network, especially at schools, libraries, cafés and other public places.
There are only a few people in a house, so family members can enjoy a dedicated bandwidth for the home. Its speed can be much higher than the public networks with congestion, and even reach the speed of the 5G network.
As well as using virtual classrooms, students can find some online studying resources much faster without waiting.
If you imagine that there is only one student at each house, they can use their dedicated lines instead of sharing the broadband in a public place.
Dedicated IP Addresses
In addition to the dedicated network, dedicated IP addresses also take advantage of student's study.
Computers and phones need IP addresses to access the Internet, which is similar to the addresses of the houses and buildings. IP addresses have private and public addresses.
Public IP addresses are the addresses that can appear on the Internet (e.g. ... School; 8.8.4.4, 223.5.5.5), while private IP addresses are the addresses that only appear behind an internal network like the room numbers in one place (e.g. Classroom A123; 192.168.2.2, 172.19.3.1).
Due to the shortage of IP(v4) addresses, NAT (Network Address Translation) was used with private addresses have solved this problem. That's why our school only has one public IP address and our computers are using a shared IP address at our school.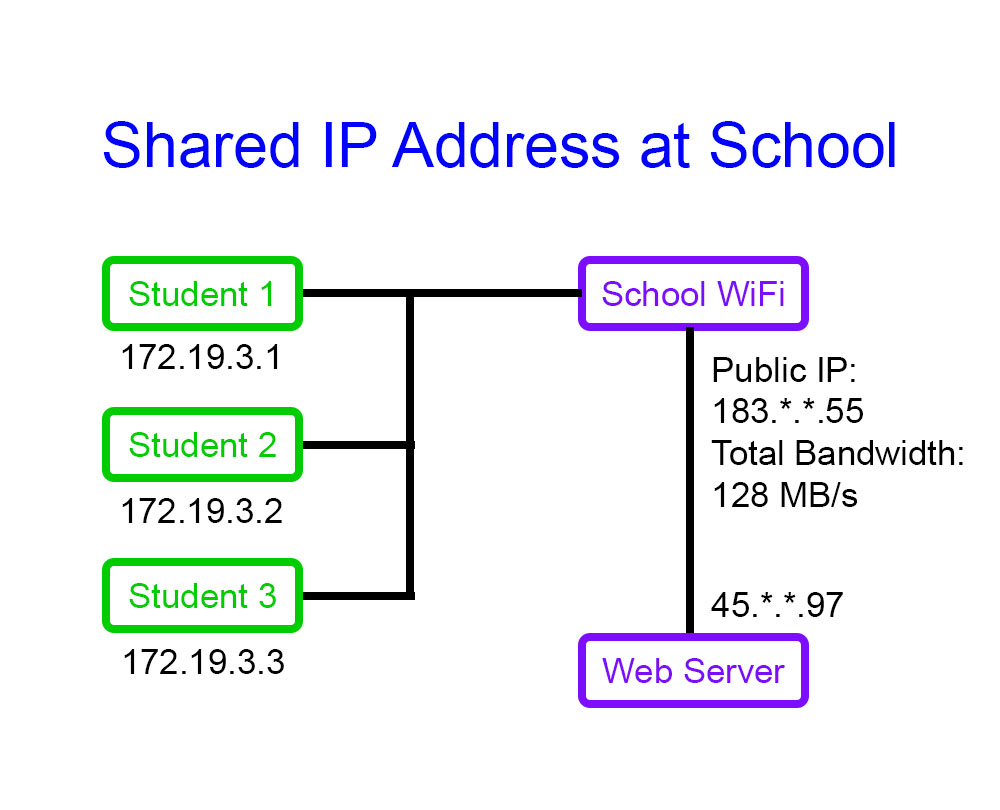 If there are too many requests under the same IP address in a short time, it will easily trigger some website's rate limits so we need to wait for some time. This can be an ordeal for the student's study.
My website, including Ken's Study Planner do not have rate limits to promote equality for all visitors.
Instead, every house has one public IP address. Similarly, students have dedicated IP addresses as well as dedicated lines if there is one student in each house.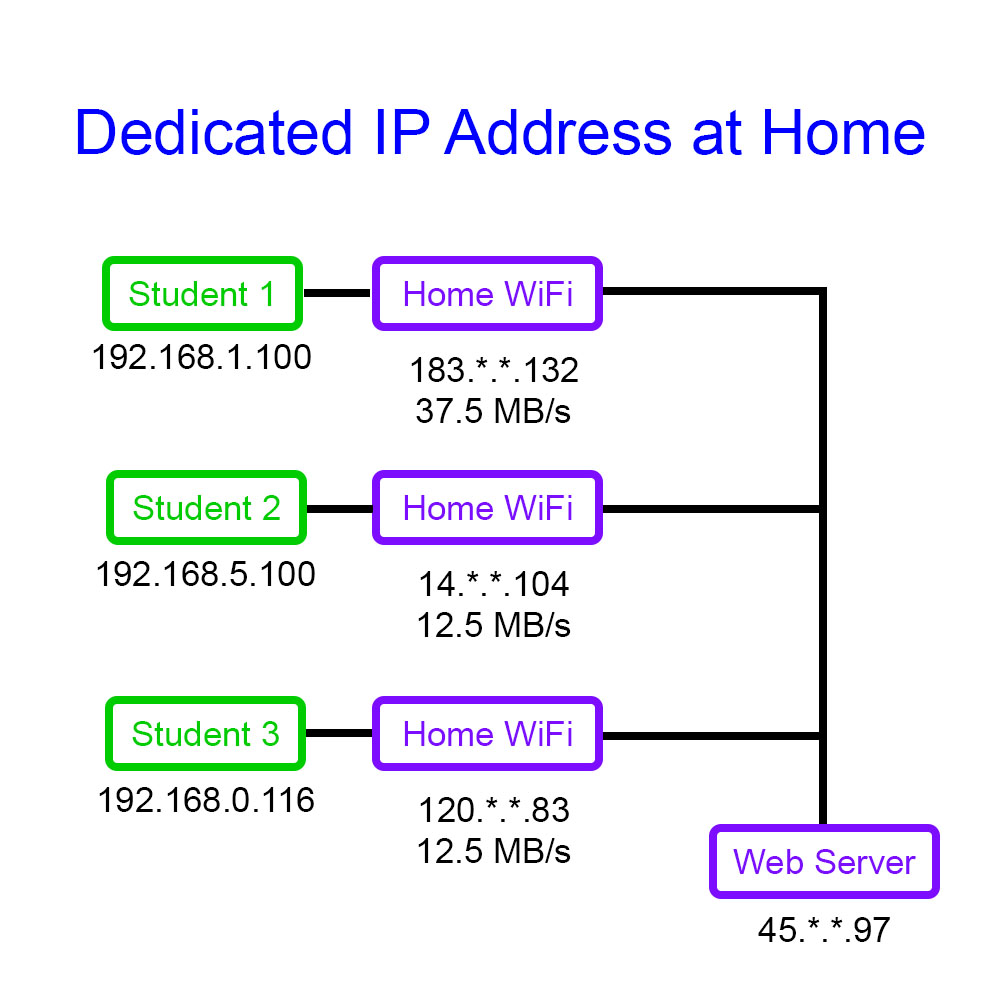 Hence, no rate limits will occur for students to find online study resources.
Gorgeous and Flamboyant Design
The next benefit is the gorgeous and flamboyant design in the bedroom with some decorations.
Home bedrooms are customisable and can be decorated according to your preferences. Some decorations can also provide motivations for you to study.
I have introduced my bedroom tour (2022) in an article before, which shows its overall design and decors.
In my decoration, I used some leaves and star light strings as well as some "Great Study Habits are Productive" posters. This overall design is used to boost my productivity.
Since I have added some flowers in the balcony, I usually take a rest in it and see the mountain view in the class intervals.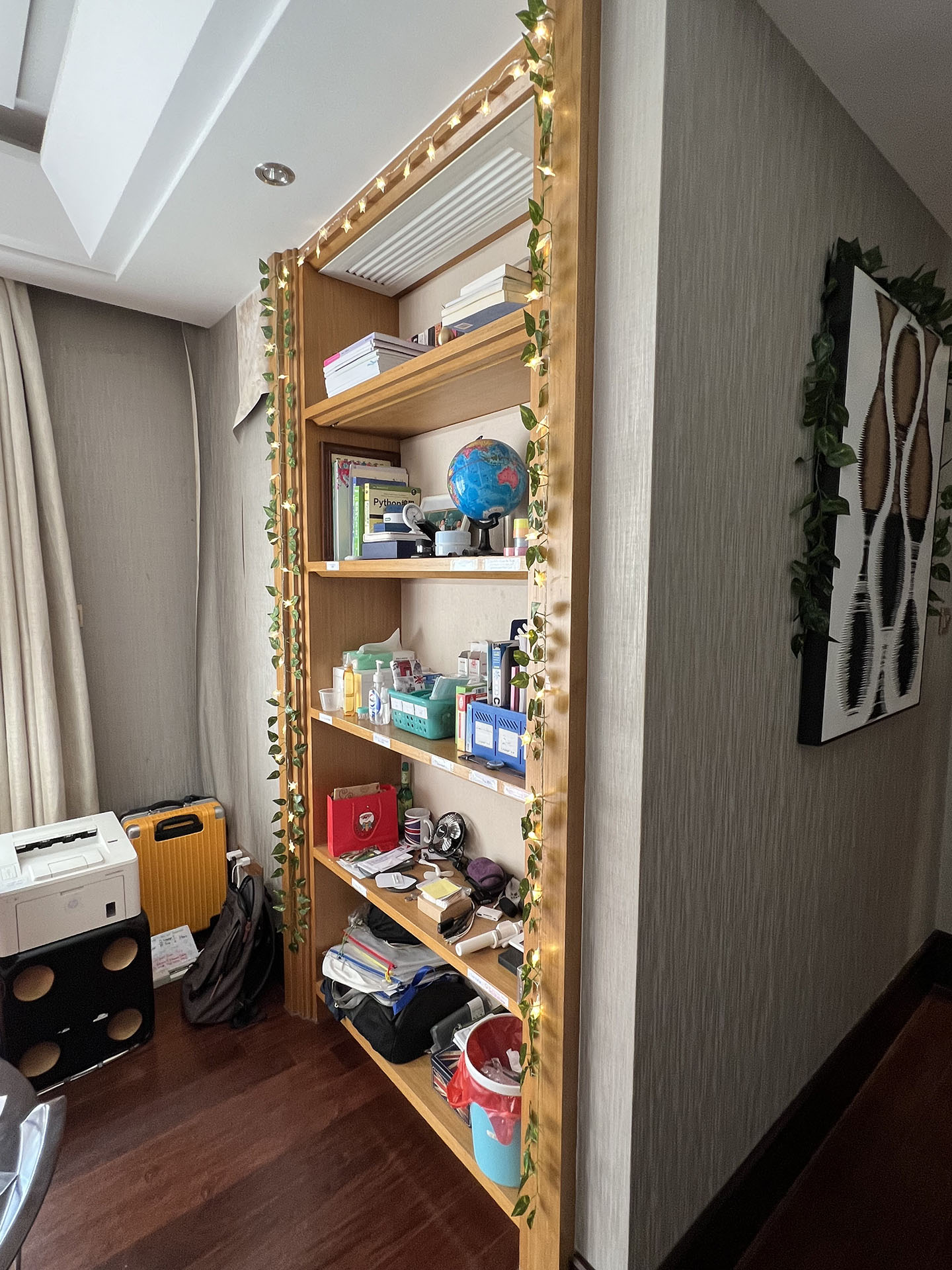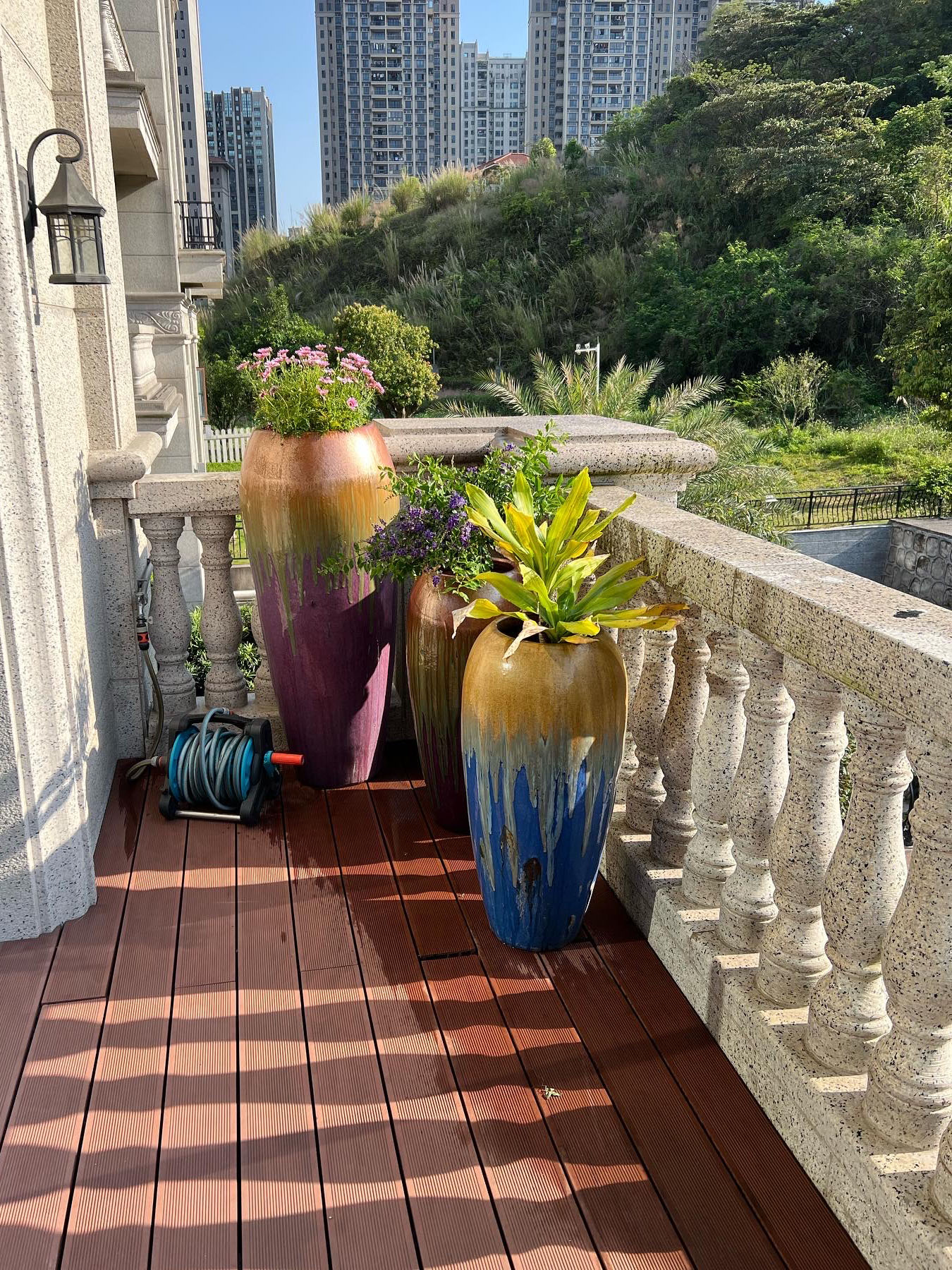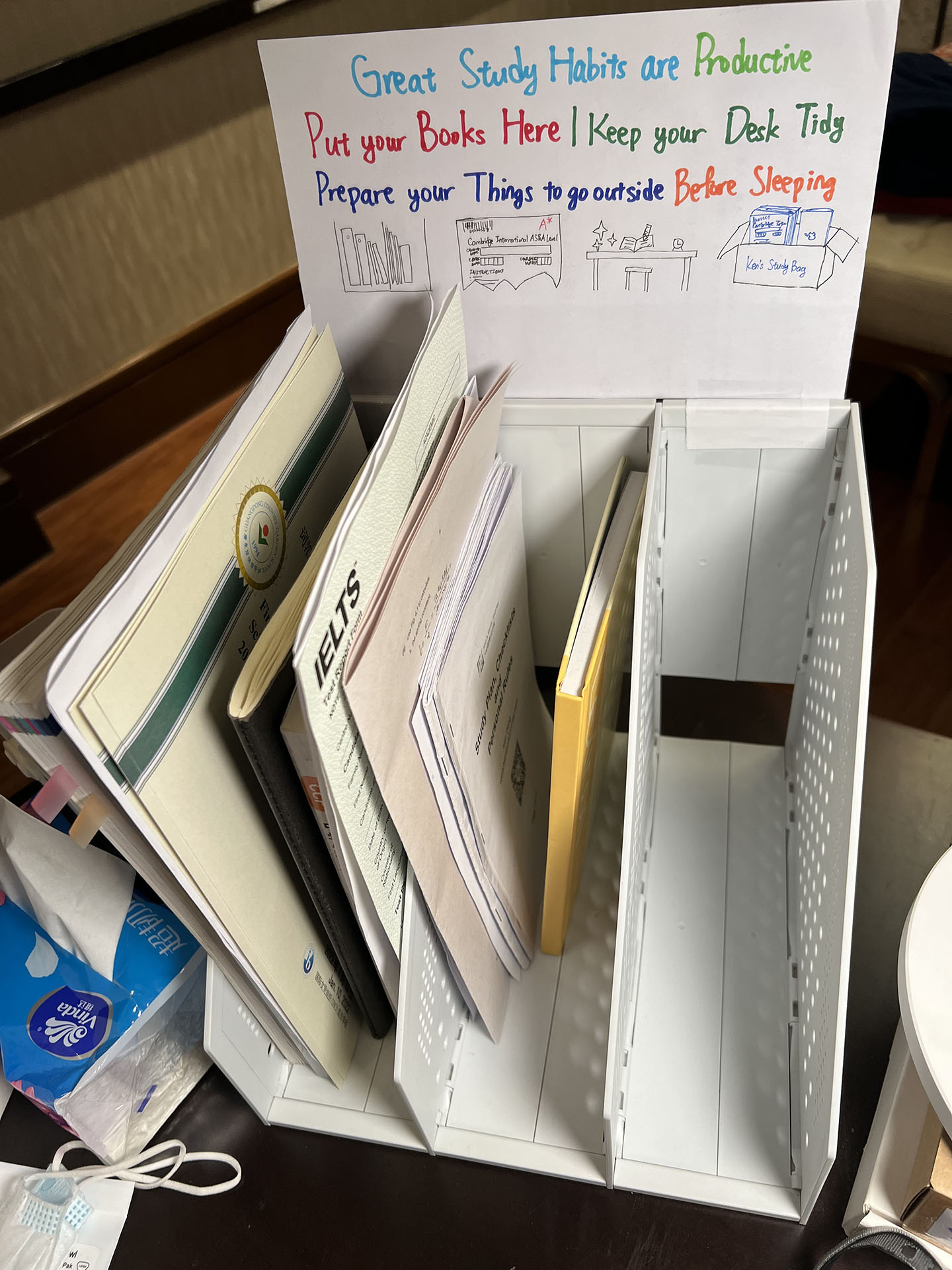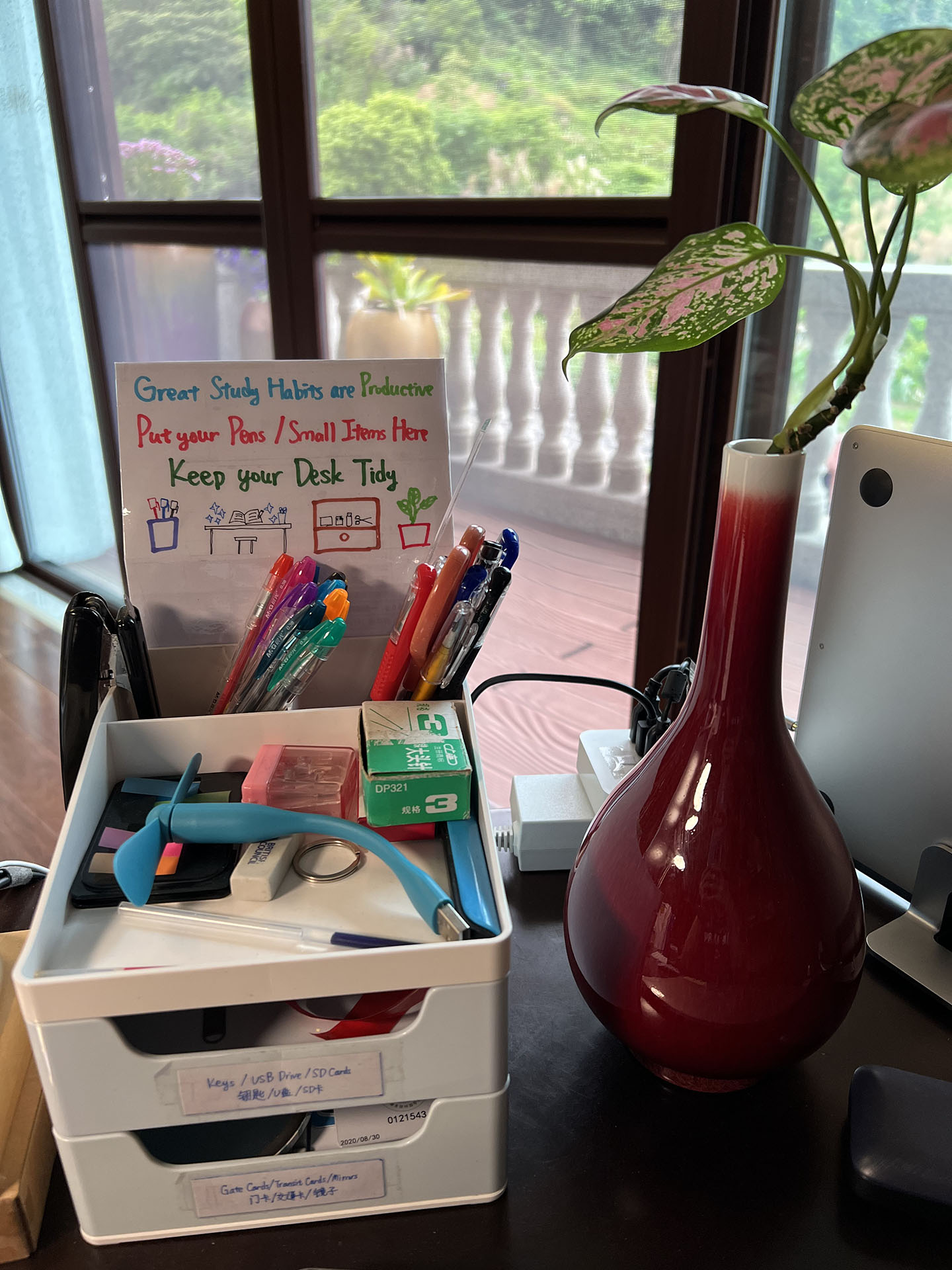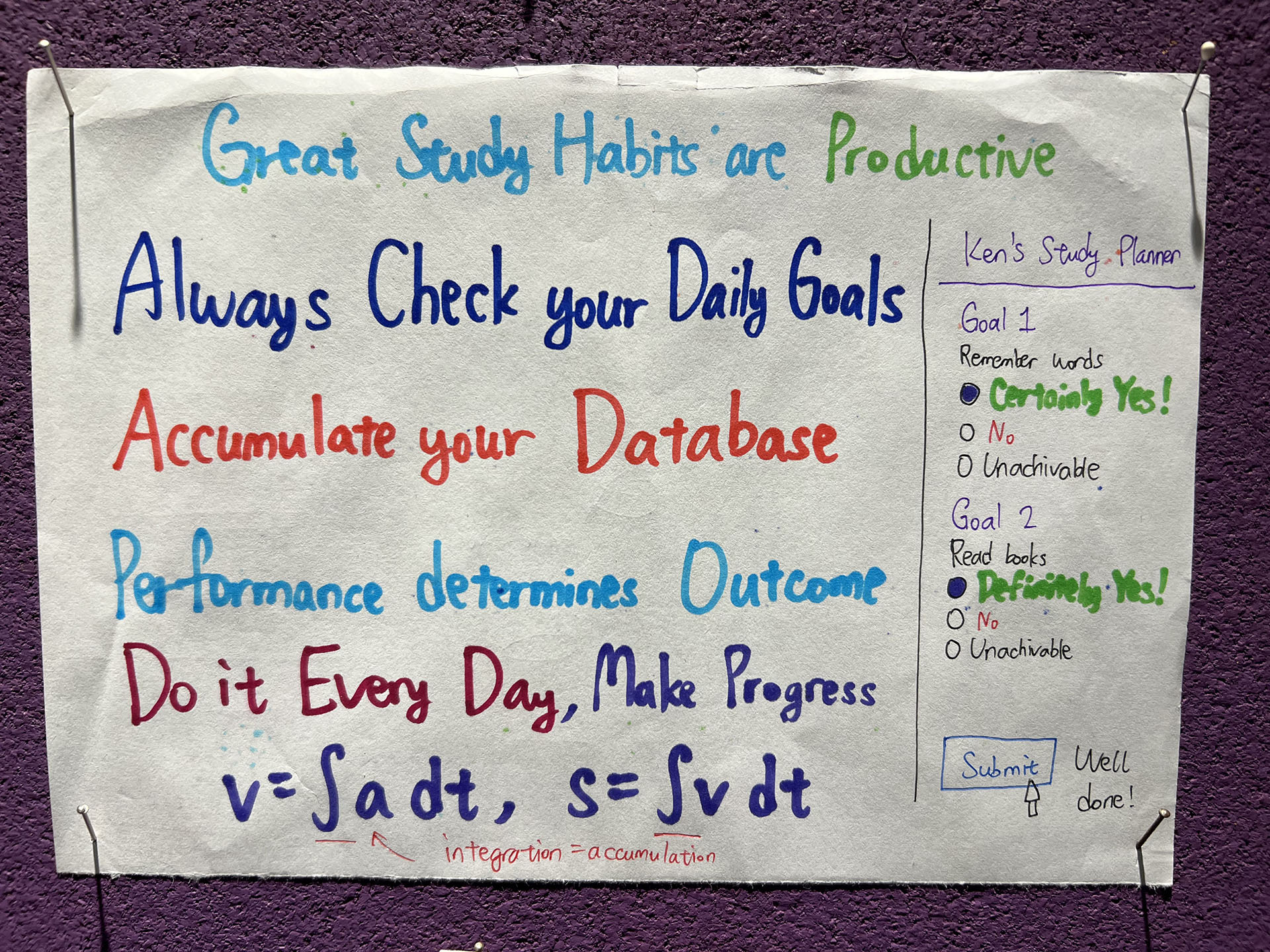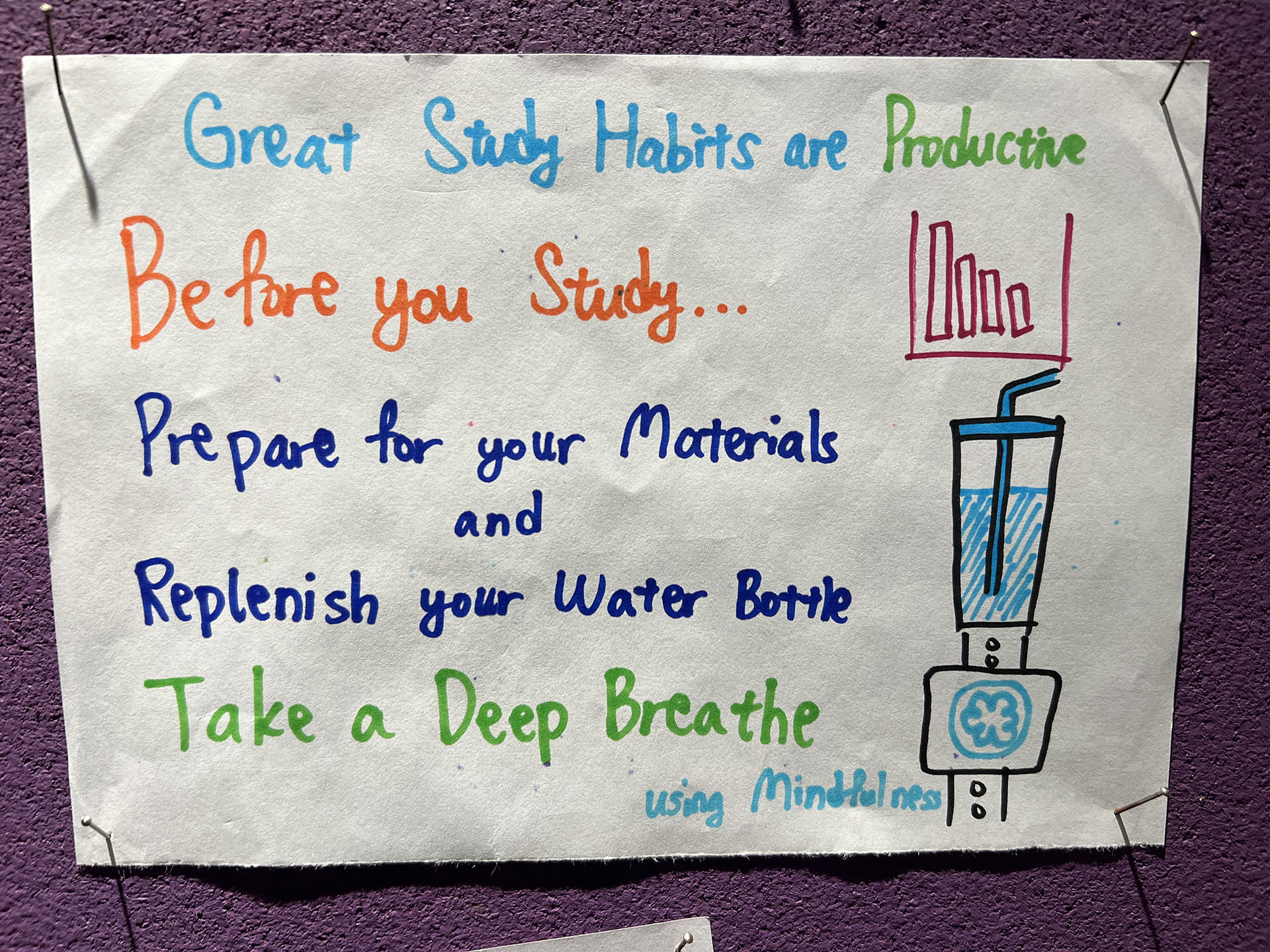 Drawbacks of Home Study
Difficult to Communicate Face-to-face
The first difficulty of home study is the face-to-face communication.
Unlike studying at school, we are unable to chat with our classmates in reality with facial expressions at our homes. The only way to communicate is to use the Internet.
Thanks for the 5G technology development for boosting the Internet speed and reducing our waiting time for studying.
Lack of Movement and Activities
As we move around the school path, usually between canteen and acdemic building, we can use Active Recall to think about the learned knowledge.
We also have some activities at school, including running on the track and group sports activities.
At home, however, we are unable to move for a long distance and have group activities due to the pandemic outside and the small home space.
So, the only way to increase the movement and activities at home is to take more exercise individually.
My Producitivty Tips for Online Lessons
The study tips were already introduced in this article in 2020. I will briefly state some of my tips.
Listen carefully.
Be punctual and on time.
Hand in homework on time.
Sleep and get up on time.
Take exercise in free time.
Make some decorations in your bedroom.
Keep your desk tidy using pen holders and bookshelves.
Use school's self-study time appropriately.
The Nucleic Acid Test
Sometimes, we have to go outside to have neucleic acid tests for all residents.
This is also a way to take a walk among some studying processes. It is required since this can better control the pandemic.
Conclusion
This is my study journey during the online lessons during lockdown in the city where I live and before the A Level international exam as well as my study tips, schedule and routine.
I hope you can pass the exam. Study Hard and Stay Safe!
Ken's Study Journey strives to provide high-quality articles about my tips and tutorials to study productively, together with some knowledge explanations. If you need help, I am here for you.
Subscribe to my email newsletter if you want to receive my latest articles, study tips, and news.