Many students always have their study plan, goals, and routine to study effectively. Recently, I updated my plan, goals and routine to alleviate my burden.
As my scores increase continuously, I want to alleviate my burden for a little bit to improve my study efficiency. This can reduce tiredness.
My 2021 Study Plan
Watch an English movie every Friday evening, on the train or airplane.
Read books on the evening self-study lessons after I have finished all my study tasks, in the café, on the train or airplane.
Remember English words when waiting in the queue (for example, in the school mess), on the bus or underground. (use Quizlet and/or my own vocabulary cards)
Listen to English audio on the car, train or airplane. For example, TED Talks, Apple Podcasts, and audio articles. Music is excepted.
Discover and share academic knowledge in real life while travelling.
Practice English pronunciation using dubbing app every morning (except school days).
My 2021 Daily Goals
In fact, I have removed some of my unnecessary daily goals at the beginning of 2021. This is because I want to alleviate my burden on studying.
More importantly, I added a goal about reading news to let me understand the things happen in the world.
These are my daily goals.
No.
Goal
Weekdays
Weekend and Holidays
Goals 1-3, pause during and a week before exam day(s).
1
remember English words
40
40
2
read books (time, minutes)
30
30
3
read books (chapter)
1
1
Goals 4-6, for weekends and holidays only.
4
listen to English audio (minutes)
OR listening test
OR English speech
ignore music

30
5
practice English speaking using dubbing app (videos)
1
6
read news
1
Goals 7-10, generally no exceptions.
7
speak English (sentences)
100
50
8
write English (sentences)
200
150
9
chat with friends using English (include Siri)
2
2
10
take exercise (minutes)
15
30
My 2021 Daily Routine
In the morning at weekends, I usually check my emails, use English dubbing app, ride bicycles, read blog articles and/or watch vlogs about study tips and university campus life, remember English words using Quizlet, and so on.
Before sleep time in the evening, I always fill in my daily goals checklist with my own system, review the words I have remembered today, check emails again, and plan for tomorrow.
In fact, I made my study planner system (planner.kenstudyjourney.cn) to manage my study plan, daily goals and schedule effectively as I have strong computer programming skills and I like computer programming.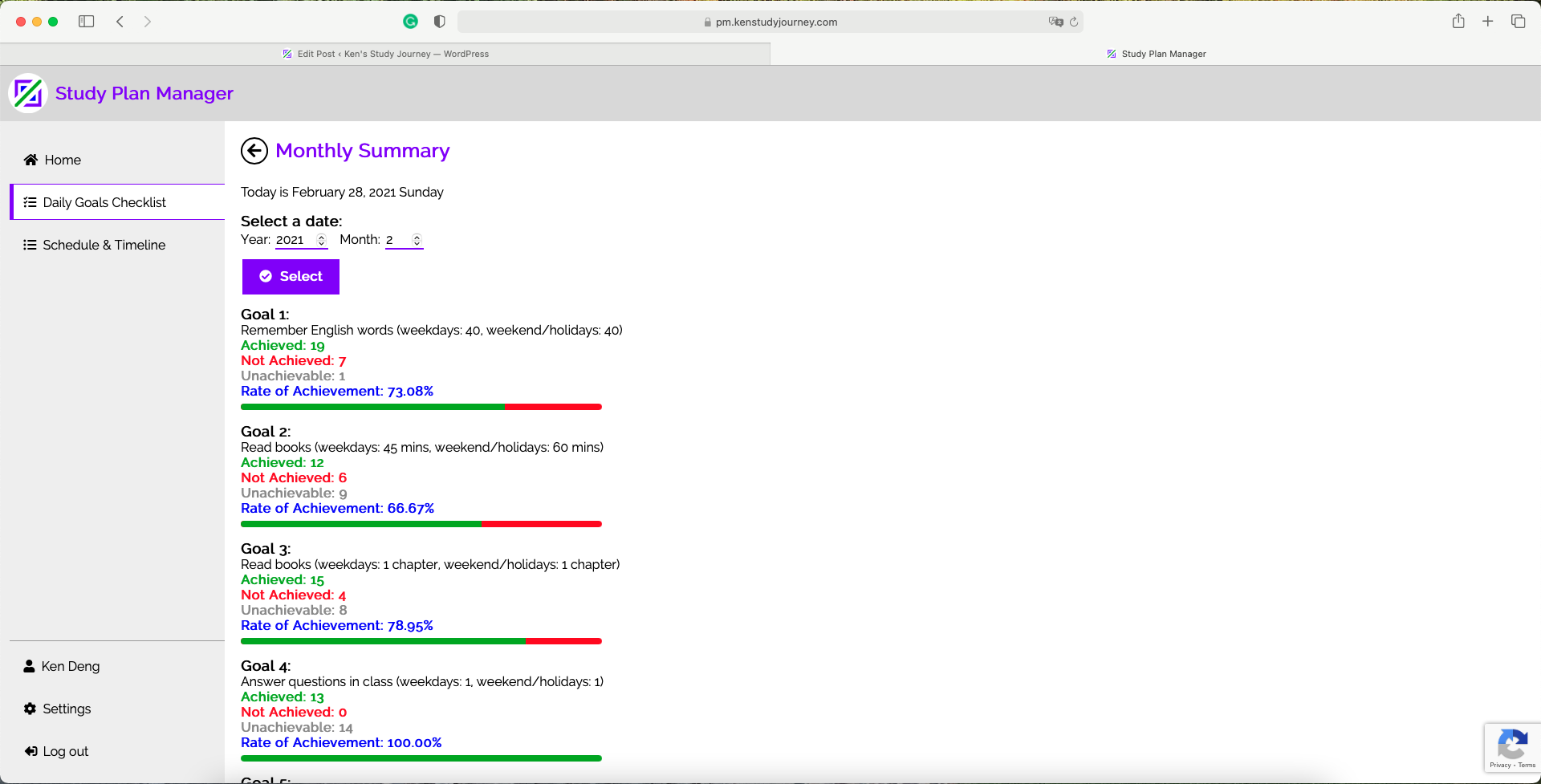 In my free time at weekends and holidays, I usually finish my study plan as possible, such as reading books on Kindle, remembering English words, listening to English audio, discovering and sharing knowledge, and so on.
My Routine in my School
In my school, however, my routine is different from the weekends and holidays version. This is because my school and most of other schools ban or restrict electronic devices and they have very strict rules.
I always take out my English vocabulary cards from my pocket to remember English words in my free time, especially when waiting in a queue during the lunch time in the school canteen.
After I have finished all of my study tasks in the evening self-study lessons, I often read my physical paper books.
Alright! This is the end of the article. Thanks for reading.
If you like this post, please click the thumb up button below and share this article. Also, you can write down your comment below if you have any ideas.
Still have questions or cannot understand my articles? Don't be hesitant to contact me and I am here to help you. I speak English and Chinese.