Hello there! My name is Ken and I am a Chinese A Level student. Welcome to Ken's Study Journey website with Computer Science knowledge explanations!
Recently, HSTS has been implemented on my website to enhance security. Although HTTPS plays an important role, hackers can attack while redirecting from HTTP.
We have already learned HTTPS, SSL and TLS in IGCSE (0478) and A Level Computer Science (9618, 9608), but HSTS is beyond these syllabuses and it is an extension knowledge.
Websites like Baidu, Google, YouTube, University of Cambridge, and University of Oxford have already implemented HSTS so people can browse the Internet securely.
This is my first knowledge explanation on my new website. From now on, I will post some knowledge explanations of Mathematics (CAIE Syllabus Codes: 0580, 0606, 9709, 9231), Physics (0625, 9702), Chemistry (0620, 9701) and Computer Science (0478, 9618, 9608) that are explicit and easy to understand on my website, along with my excellent study tips.
Do you know how and why can HSTS further enhance visitor's security on a website? Let's dive in!
What is HSTS?
HSTS stands for HTTP Strict Transport Security. It is an extra layer that further ensures visitor's security.
Nowadays, an increasing number of websites, including my website, have started using HTTPS security protocol, especially banking and online booking/shopping websites. Hackers cannot read or modify encrypted data. HTTPS uses security certificates with encryption algorithms and keys.
Normal users do not know computer terms such as HTTP, HTTPS and SSL, so they usually type web addresses without typing "https://". Sometimes, hackers can intercept data while redirecting to HTTPS from HTTP which is very dangerous, but HSTS can force browsers to visit HTTPS site and redirect internally (inside the browser without requesting the server) if you do not add "https://" on the address bar. The browser will redirect to HTTPS website later on after the first visit.
It also can prevent browsers from accessing the website with no exceptions if a hacker intercepts the HSTS transmission, like this: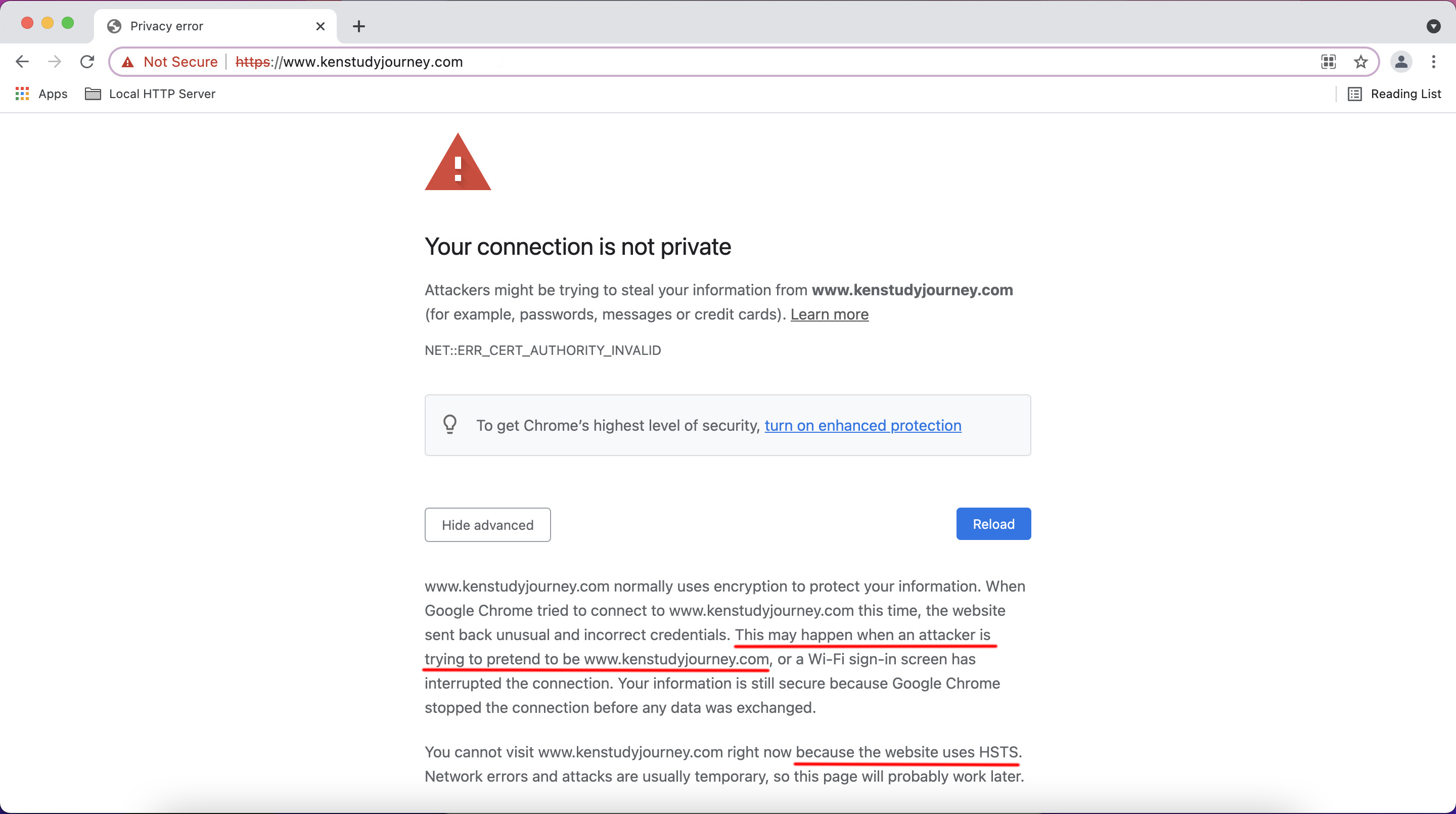 The Image Says:
Attackers might be trying to steal your information from www.kenstudyjourney.com (for example, passwords, messages, or credit cards). Learn more
www.kenstudyjourney.com normally uses encryption to protect our information When Google Chrome tried to connect to www.kenstudyjourney.com this time, the website sent back unusual and incorrect credentials. This may happen when an attacker is trying to pretend to be www.kenstudyjourney.com, or a Wi-Fi sign-in screen has interrupted the connection. Your information is still secure because Google Chrome stopped the connection before any data was exchanged.
You cannot visit www.kenstudyjourney.com right now because the website uses HSTS. Network errors and attacks are usually temporary, so this page will probably work later.